検索
J. Lawrie Bloom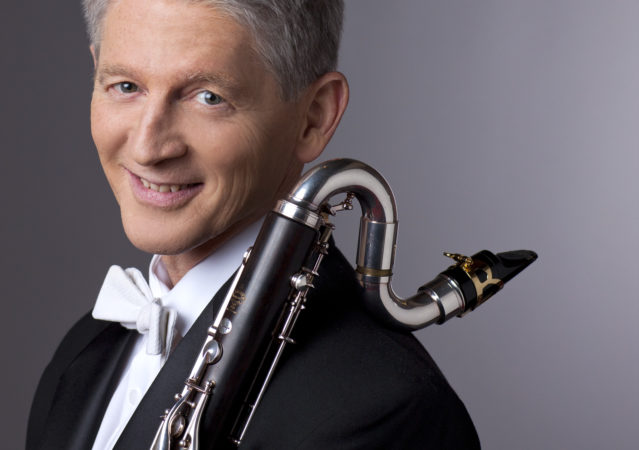 Clarinet and solo bass Clarinet Chicago Symphony Orchestra
A versatile player, J. Lawrie Bloom has been heard in chamber, orchestral and concerto appearances on soprano clarinet, basset clarinet and bass clarinet. He began studying piano at four and switched to the clarinet at nine.
He continued studies at the Columbus Boychoir School, with whom he toured the U.S., Canada and Japan, singing and playing the clarinet. At that same time on clarinet he came under the guidance of Roger W. McKinney, later studying with Anthony M. Gigliotti. This season Lawrie will be heard as a member of the Rembrandt Chamber Players, guest artist with the Chicago Symphony String Quartet and as part of the Winter Chamber Music Festival at Northwestern University.
He continues as clarinetist and Artistic Co-Director at the Eastern Shore Chamber Music Festival. He has been a featured performer at many International Clarinet Association conferences, the Oklahoma Clarinet Symposium, and has taught and performed at the 6th Annual Clarinet Meeting in Lisbon, Portugal. Lawrie has performed at the Ambler, Grand Teton, Ravinia, Skaneateles and Spoleto festivals, and the Mostly Mozart Festival in New York.
Lawrie toured with the Orpheus Chamber Orchestra, and has collaborated with the Chester, Chicago Symphony, and Mendelssohn String Quartets, the Chicago Chamber Musicians, and members of the Ridge, Orion and Vermeer string quartets. He has been heard many times in live concerts over the airwaves of WFMT in Chicago, and in live recital for the Australian Broadcast Company.
In September of 1980 Sir Georg Solti invited Lawrie to join the Chicago Symphony Orchestra, in the position of Clarinet and Solo Bass Clarinet. In that position he has toured the world, with some 2 dozen trips to Europe, 4 to Japan, and appearances in Australia, India and throughout the USA to date. He can be heard on CSO recordings of a vast repertoire.
Previous to joining the CSO Lawrie held similar appointments with the Phoenix Symphony, the orchestra of the Lyric Opera of Chicago, the Vancouver Symphony, and the Cincinnati Symphony.
Lawrie is a Senior Lecturer in Clarinet at Northwestern University. He has presented master classes all over the world, and is an Artist Performer for Buffet Crampon USA and RICO International.
Instruments
Tosca 1195

Retour en Haut