検索
Gianluigi Caldarola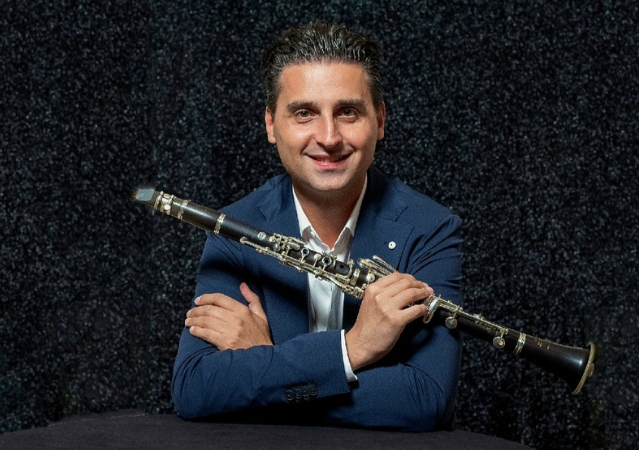 Principal clarinet at the Opera Royal de Wallonie - Liege (Belgium)
Gianluigi Caldarola classe 1986 è Primo Clarinetto Solista presso l' Orchestra dell' Operà Royal de Wallonie di Liegè (Belgio).
Si è diplomato brillantemente presso il Conservatorio "U. Giordano" di Foggia sotto la guida del M° Vincenzo Conteduca.
Successivamente si perfeziona presso l' Accademia Italiana del Flauto di Roma sotto la guida del M. Calogero Palermo (importantissimo nel suo percorso formativo e professionale)  e ha partecipato in qualità di allievo effettivo alle masterclasses dei M. Corrado Giuffredi,  Karl Leister e Alessandro Carbonare.
Winner of numerous orchestral auditions, scholarships and more than 15 soloist competitions, including First Prize Absolute at the prestigious "Saverio Mercadante" International Clarinet Competition in Noci (BA), 1st Prize Absolute in the Wind Soloist category at the "Nuovi Orizzonti" National Competition in Arezzo, 2nd Prize at the 'Giacomo Mensi' International Clarinet Competition in Breno (BS), 3rd Prize at the 'Rino Viani' Competition in Carpi (MO), and 3rd Prize at the 'Ciro Scarponi' National Clarinet Competition in Assisi.
In his professional career he has collaborated as Principal Clarinet Soloist with the Orchestra National de France in Paris, the Orchestra Cherubini founded by M. Riccardo Muti. Riccardo Muti, Orchestra del Teatro dell'Opera di Roma, Orchestra Haydn di Bolzano, Orchestra I Virtuosi Italiani, Orchestra del Teatro Carlo Felice di Genova, Orchestra del Teatro Petruzzelli di Bari, Philharmonic Orchestra "Mihal Jora" di Bacau, Orchestra Sinfonica della città Metropolitana di Bari, the Salerno Philharmonic Orchestra of the Teatro Verdi di Salerno and the Orchestra of the Teatro Lirico Sperimentale di Spoleto, playing under the baton of illustrious international conductors and soloists such as Riccardo Muti, Emmanuel Krivine Fabio Luisi, Zubin Mehta, Krzysztof Eugeniusz Penderecki, Isaac Karabtchevsky, Nevill Marriner, Donato Renzetti, Piero Bellugi, Daniel Oren, Michel Plasson, Michele Mariotti, Gianluigi Gelmetti, Claudio Scimone, Renato Palumbo, Speranza Scappucci etc. , where he has performed in important theatres such as the Helmut List Halle in Graz (Austria), the Basilica of Saint Denis (France) and the Korzerthaus de La Seine Musical in Paris, and international concert halls in Finland, Belgium, France, Japan, Spain, United Arab Emirates, Latvia, China, Austria, Germany, Switzerland, and where numerous performances have been broadcast by various television and radio stations such as Rai, Radio Tre, Musiq3, France.Tv and France Musique.
Alongside his orchestral activity, he also performs as a soloist and chamber musician, playing in various formations from duo to ensemble, with which he has had the opportunity to record for important record companies such as Warner Classic Music and Enja Records
In recent years, in addition to his concert activity, he has been teaching as a principal teacher in annual masterclasses in Rome, Piacenza and Reggio Calabria.
Retour en Haut