Search
Ana Maria Santos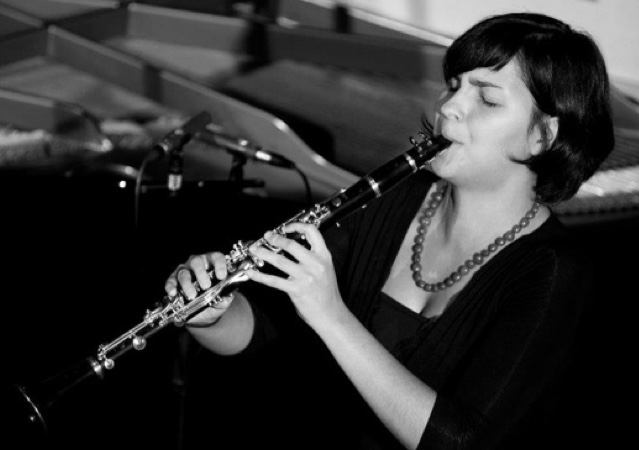 International solist and professor at Universidade de Évora in Portugal
Ana Maria Santos is a portuguese clarinetist. She studied with Michel Arrignon at Escuela Superior de Música Reina Sofia in Madrid (2009-2013), with scholarships from Fundação Calouste Gulbenkian and Fundación Carolina. At the same school she had the opportunity to work with different chamber music groups under the orientation of Ralph Gothoni, Jacques Zoon, Eldar Nebolsin, Klaus Thunemann and Marta Gúlyas. In 2008 she finished a post-graduation with Harry Sparnaay at Escola Superior de Musica da Catalunya in Barcelona. In 2007 she graduated with Etienne Lamaison from Academia Nacional Superior de Orquestra in Lisbon.
Ana is at the moment doing a Phd at Universidade de Évora.
In 2016 she performed at New York Philharmonic Biennial under the direction of Alan Gilbert. When finished her studies in 2013, Ana was invited to be the clarinet teacher of Universidade de Évora, to be part of the Lucerne Festival Alumni Ensemble and she also started to collaborate with the Orquestra de Câmara Portuguesa under the direction of Pedro carneiro.
In 2011 and 2012 Ana was selected to be part of the Lucerne Festival Academy, where she had the opportunity to work with Pierre Boulez, Pablo Heras-Casado and David Robertson. During this Festival, she also performed as a soloist a piece by Peter Eötvos, conducted by himself. Since 2011 she was part of many other important festivals such as International Ensemble Modern Academy (Austria) under Beat Furrer orientation, IRCAM ManiFest Festival (France) under Heinz Holliger, Encuentro y Academia de Música de Santander (Spain) where shared the stage with Klaus Thunemann, Felix Renggli and Hansjorg Schellenberger or Euro-Asia Chamber Music Festival (South Korea).
Ana has been performing since 2010 with different projects at various cities from Europe, Brasil, USA, South Korea or China, that gave her the opportunity to play under the conduction of Zsolt Nagy, Zubin Mehta, Matthias Pintscher, Peter Rundel, Zoltan Kocsis, Michel Zilm, Pascal Rophé or Támas Vasary. In 2011 she recorded Brahms clarinet quintet and in 2014 the live recording of Ana ́s Mozart Clarinet Concerto was included on a CD sponsored by Escuela Superior de Música Reina Sofia and BP. This concert was also broadcasted on the Spanish television RTVE2. The prize Ana is most proud of, is the one she was awarded the best student of Michel Arrignon ́s class in 2010. She received this award from the hands of Your Majesty The Queen Sofia of Spain.
Instruments
Festival

Prestige 1193 – 1183

Retour en Haut