Suche
Kıvanç Fındıklı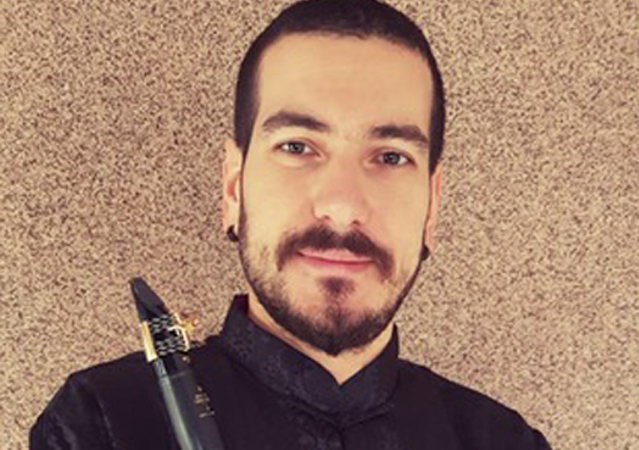 Solo Clarinet of the Samsun State Opera and Ballet Orchestra and Anatolian Wind Quintet
Kıvanç Fındıklı started his clarinet career at Trakya University State Conservatory with Oktay Bagirov in 1996. He was awarded 3rd prize by the Young Musicians Contest that was held by Mimar Sinan Rotary Club in 1999. In 2002, he received 2nd prize from the 7th International Young Musicians Contest in Dobrich & Albena City, Bulgaria and in 2005, he won the first prize of the International Young Musicians Contest that was held in Sofia, Bulgaria.
He participated the master classes of various world leading clarinetists as; Alain Damiens, Sarah Elbaz, Nicolas Baldeyrou, Nusret Ispir. He continued his education at Mimar Sinan Fine Arts University State Conservatory in Istanbul and graduated with honors degree in 2006. Same year he passed the exam of the Mediterranean Youth Orchestra and entitled to join the orchestra for the concert tours. In November 2007, he performed S. Prokofiev's "Sur Themes Juifs"s ouverture for clarinet, piano and string quartet with Idil Biret and Bosphorous Quartet at Cemal Resit Rey Concert Hall in Istanbul. In 2008, he was selected to the Samsun State Opera and Ballet Orchestra.
In 2009, he played W.A Mozart's clarinet concerto with Samsun State Opera and Ballet Orchestra. He took part in various orchestras as; Cemal Resit Rey Symphony Orchestra, Bursa Region State Symphony Orchestra, Antalya State Symphony Orchestra, Sisli Municipal Symphony Orchestra, Istanbul Sinfonietta Orchestra, Istanbul Philharmonic Orchestra and Istanbul State Opera and Ballet Orchestra. He is currently a member of the Gedik Philharmonic Orchestra, Hezarfen Ensemble and Samsun State Opera and Ballet Orchestra as principal clarinet and also has an active chamber music career with the Anatolian Wind Quintet.
Instruments
Divine

Retour en Haut