Suche
Hélder Gonçalves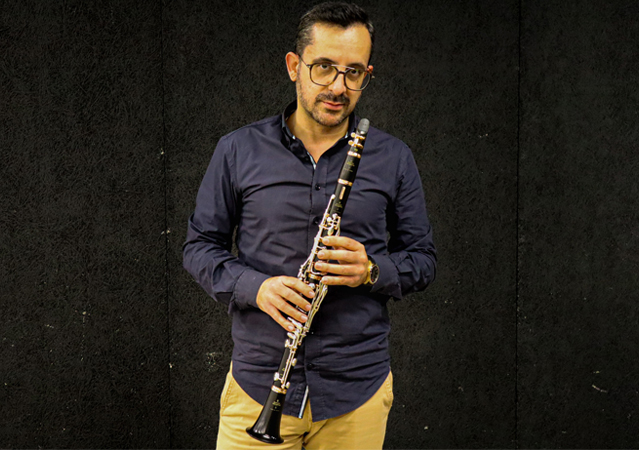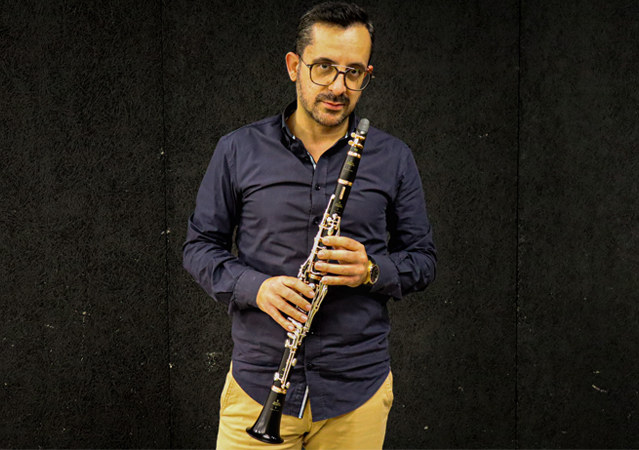 Soloist in the Banda Sinfónica da Guarda Nacional Republicana
Born in Cabeceiras de Basto, he began his musical studies at the Banda Cabeceirense School. He studied at the Professional Art School of Vale do Ave – ARTAVE.
-Master in Musical Arts – Performance Soloist – by the Faculty of Social Sciences and Humanities of Universidade Nova de Lisboa.
-Master in Music Teaching at Escola Superior de Artes Aplicadas –ESART.
-Degree in clarinet by the Escola Superior de Música de Lisboa.
– Degree in Orchestra Conducting at Escola Superior de Música de Lisboa, in the class of Professor Alberto Roque.
– Studied Orchestra Conducting with Maestro Jean Sebastian Béreu.
As a clarinet player, he develops an intense activity, as a soloist or in orchestra. He has collaborated with numerous national orchestras such as the Portuguese Symphony Orchestra, Lisbon Opera Orchestra, Sintra Classical Orchestra, Portuguese Symphonic Band, New Lisbon Orchestra, Symphonic Choir Orchestra of Portugal, the Foco Musical Orchestra, the Cascais and Oeiras Chamber Orchestra, the Centro Clássica Orchestra, among others.
He has had several pieces dedicated to him by composers such as: Joaquim Gonçalves dos Santos, Hugo Ribeiro, Gonçalo Lourenço, Nuno Miguel Henriques, Paulo Cordeiro, Alexandre Almeida.
He held a master class with António Saiote, Walter Boeykens, Philippe Cuper, Joan Enric Lluna, Nuno Pinto, Carlos Alves, Luis Gomes, Nuno Silva, Rui Martins, Joaquim Ribeiro, Michel Arrignon, Paul Meyer, Guy Deplus, Etienne Lamaison, among others.
He is regularly invited to host master classes and Orchestra Internships around the country, both as a clarinet teacher and as a Conductor. He was a guest judge of the International Clarinet Competition at Clarmmet 2017; he directed the closing concert of the Internacional Clarinet Festival in Lisbon at the Thalia Theater in 2019. He performed a recital at the Clarmmet in Porto 2021 where he premiered his work "M´inês", for solo clarinet.
He is the Artistic Director of the Sintra Clarinet Festival.
He taught clarinet, chamber music and orchestra at the Coimbra Regional Music Conservatory, David de Sousa da Figueira da Foz Music Conservatory, Jaime Chavinha de Minde Music Conservatory, Palmela Regional Music Conservatory, School of Innovation and Creation Technologies –ETIC of Lisbon and Conservatory of Music of Metropolitana de Lisboa.
As a clarinet player, he was a laureate in national and international competitions, including the first place in the Chamber Music competition at the OPEM 1999 in Castelo Branco and the Award for Best Interpreter of Contemporary Music in Porto 2001 – European Capital of Culture.
As a conductor, he won in 2016, the 6th Vila de Xira International Band Contest, obtaining the 2nd prize (without the 1st prize to be awarded), in the 2nd Category. In 2017, at the 4th International Band Competition – Filarmonia D'Ouro at Europarque de St Maria da Feira, he won 1st prize.
He premiered pieces by composers such as: Nelson Jesus, Alexandre Almeida, Oliver Waespi, Luis Carvalho, Nuno da Rocha, Sérgio Azevedo, Luis Cardoso, Pedro Teixeira Silva, Paulo Cordeiro, Cláudio Peixoto Cruz, among others. He directed soloists such as: Thomas Rüedi, Paolo Beltramini, João Barradas, Ricardo Pires, Horácio Ferreira, Jorge Almeida, Marco Silva, among others.
He was awarded a Commendation, Congratulation and Rejoice by the Municipality of Cabeceiras de Basto in 2016.
He is currently a soloist in the Guarda Nacional Republicana Symphonic Band and Chamber Orchestra. He teaches at the Sintra Conservatory of Music and at the Cascais Conservatory of Music and Dance.
He is a sponsored Buffet Crampon and D'Addario artist.
Since April 2014, he has been the artistic director and conductor for the "Sociedade Filarmónica Comércio e Indústria da Amadora".
Instruments
Légende

Retour en Haut