Recherche
Vilem Veverka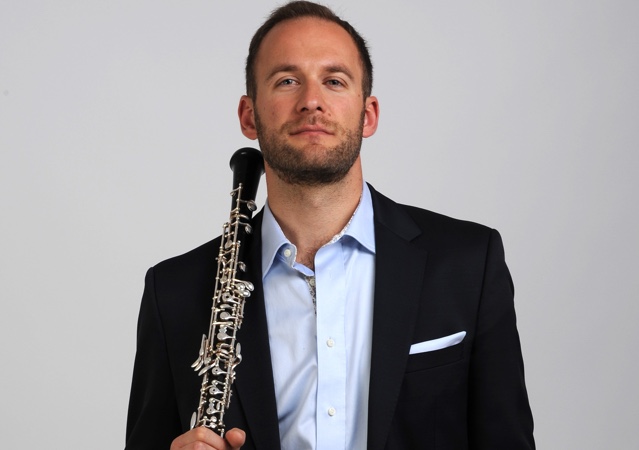 International solist
His family background determined the focus of Vilém Veverka (b.in Prague, in 1978) on music while he was still a young child. He took up oboe at the age of twelve (with Vladimír Hanuš). As a student of the Prague Conservatoire (with František X.Thuri), he made himself known receiving an award from the Concertino Praga Competition (1995, second prize), and becoming the winner of the Czech Republic Conservatories Contest (Ostrava, 1997). At that time, he established contacts with distinguished French oboist Jean-Louis Capezzali who opened up before him the world of contemporary music, as well as acquainted him with present-day European standards of oboe performance. Still as a student at the Conservatoire, from which he graduated with an account of the Richard Strauss concerto, he appeared in public, playing among other works Stockhausen´s composition, In Freundschaft (in the Czech premiere of its version for oboe, 1998). In that period he became a solo oboe player of the Gustav Mahler International Youth Orchestra with which he continued to perform for several subsequent years, working under a number of prominent conductors, including Claudio Abbado, Pierre Boulez, Kent Nagano and Franz Welser-Möst.
He pursued his studies at the Academy of Music in Prague (1999-2004, with Liběna Séquardtová), and at Berlines Hochschule für Musik "Hanns Eisler" (2000-2006, with Dominik Wollenweber). He furthered his education in various short-term courses (Santander, Cupra Maritima), and in numerous consultations with leading European oboists (Hansjörg Schellenberger, Maurice Bourgue, Albrecht Mayer, Heinz Holliger). The path on which he then embarked climaxed with work in the Berlin Philharmonic (Karajan Stiftung, 2003-2005, under Sir Simon Rattle, Valery Gergiev, Gennady Rozhdestvensky, Semyon Bychkov and others), and victory in one of the world´s most prestigious international oboe competitions, in Tokyo (2003, Sony Music Foundation).
Vilém Veverka has to his credit Czech premieres of several chamber works by major composers of the second half of the 20th century (Isang Yun: Piri, Inventions; Richard Rodney Bennet: After Syrinx; Charles Koechlin: Sonata), and oboe concertos from Bernd Alois Zimmermann and Marek Kopelent (Concerto galante, premiered at the Prague Premieres 2004, Expulsion, premiered in June 2006 in collaboration with the german mezzo-soprano Mechtilde Seitz). He was also one of the initiators of a new oboe concerto written for him by the young Czech composer, Martin Hybler (premiered by the Prague Philharmonia under Jakub Hrůša, in 2005). Apart from his solo career, he has carried on as an orchestra player (a.o. with the Prague Philharmonia, and the Munich Chamber Orchestra with which he went on a Korean tour in March 2006), from January 2007 he is a solo oboist of the Brno Philharmonic Orchestra, as well as working regularly with Czech Radio (recording music by Marek Kopelent, Richard Rodney Bennett, Pavel Haas, Isang Yun, Luciano Berio and others). In the field of the chamber music he works together with pianist Diana Ketler, professor of the Royal Academy of Music in London and other Czech pianist of of younger generation as Daniel Wiesner and Ivo Kahánek. With several members of his generation, he likewise cultivates early music interpretation, systematically striving for a performing style which is at once historically authentic and highly individual.
In September 2007 he performed oboe concerts of J.S.Bach and G.Ph.Telemann on the tour with the Czech Chamber Soloists in nine cities of the South America (Peru-Lima, Brasil – Olinda, Vitoria, Ribeirão Preto, Sao Paulo, Rio de Janeiro, Argentina – Rosario, Cordoba, Tucumán). With this tour they started an extensive collaboration which leaded in concerts at the renowned German Festivals MDR Musiksommer, Mitte Europa and the Belgian Festival Haydn Biennale Mechelen.
He had his debut at the Moravian Autumn festival 2007 in Brno with a recital together with cembalist B.M.Willi. Their concert with motto "Instruments with a Great Past" compared the classical and contemporary compositions.
In duo with the Czech harpist Kateřina Englichová he performed at the famous international festivals like Carinthischer Sommer (Austria), Sarajevskaja zima, Haydn Biennale Mechelen, Flaneries Reims, Marnach Festival in Luxembourg and others. They performed the Lutoslawski Double concerto with the Dohnányi Budafok Orchestra in Budapest.
2009 appears at the main Czech recording company Supraphon the CD "Risonanza" with the Czech music of the 20th century (together with Englichova/harp and Kahanek/piano). In the same year he realized a CD recording of the Oboe Concerto by B. Martinů at the Czech renowned label Arco Diva.
He plays the Green-Line oboe of the most important French producer of wind instruments Buffet-Crampon Buffet-Crampon, who also supports his project activities.
Instruments
Prestige 3643G

Retour en Haut