Recherche
Hernan Garreffa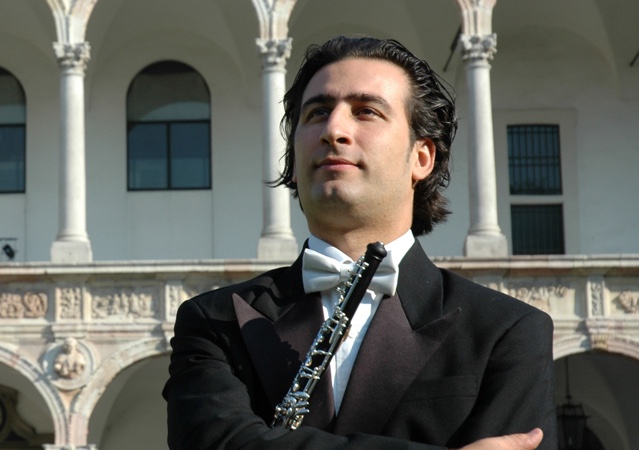 Principal Oboe "Real Teatro San Carlo" in Neaples
Hernan Diego Garreffa, Argentine, was born in Santa Fe on March 12, 1973.
He began oboe studies with his father Cesar Garreffa, famous oboist and soloist of Argentina.
He completed his studies of flute recorder (1989) and oboe (1991) in the Liceo Municipal in Santa Fe.
In 2001 he completed his studies of oboe in the Santa Fe Music University with the first prize of all woodwinds.
He made special studies with many renowned oboists as Joel Timm (Los Angeles, Faculty of University of Southern California), Elaine Douvas (Metropolitan Opera, New York), Laszlo Hadady (Ensemble Intercontemporain of Paris, France), Hansjorg Schellenberger (Berliner Philarmoniker)…
Since 1992 he was oboe professor at the School Superior of Music Dance and Dramatic Art of the University of Entre Rios and has continued in that position until 2002.
Since 1992 to 2002 he was Principal Oboist of Santa Fe Symphony Orchestra.
Since 1997 to 2002 he was Principal Oboist of Entre Rios Symphony Orchestra.
He has been Principal oboist of the Orchestra Sinfonica di Milano "Giuseppe Verdi" conducted by Riccardo Chailly since 2002.
Since 2016 he has been Principal oboe of Reale Teatro San Carlo di Napoli, Naples, Italy.
During his career he played as Principal Oboe with many orchestras around the world as Teatro alla Scala, Orchestra Sinfonica della RAI, Orchestra della Accademia Santa Cecilia of Rome, Malmo Symphony Orchestra, Teatro Carlo Felice of Genova, Teatro Regio di Torino, Orchestre Suisse Romande among others.
"High profile as interpreter and great musicality and professionalism" Riccardo Chailly, Conductor, Royal Concertgebouw, Amsterdam, Gewandhaus Orchester, Leipzig and Teatro alla Scala Principal Conductor.
"He has an excellent tone as well as technique that make it wonderful to work with him" Zubin Mehta, Principal Conductor Israel Philharmonic Orchestra.
"Excellent oboe-player, his tone is beautiful and refined, her is a real virtuoso on his instrument" Vladimir Jurowski, conductor of London Philharmonic Orchestra, Principal guest conductor of Russian National Orchestra, Principal artist of Orchestra of the Enlightenment.
"Wonderful musician, with a very secure technique and a clear Knowledge of style" Helmuth Rilling, Principal Conductor of Internationale Bachakademie Stuttgart.
"Invaluable artistic partner. Clear and beautiful intonation and great qualities as a woodwind leader" Claus Peter Flor, Former Principal conductor Konzerthausorchester Berlin, former guest conductor Orchester Tonhalle Zurich, and the Dallas Symphony Orchestra.
He has been awarded prizes in the following competitions:
-1st Prize Mozarteum Competition Santa Fe Filial Salzburg. (1990)
-1st Prize Franz Liszt Competition Woodwinds (1994)
-1st Prize "Best Artistic Quality" (1999)
Hernan Garreffa has been trusting Buffet Crampon since 2005.
Instruments
Prestige 3643G

Retour en Haut