Recherche
Gabriele Francioli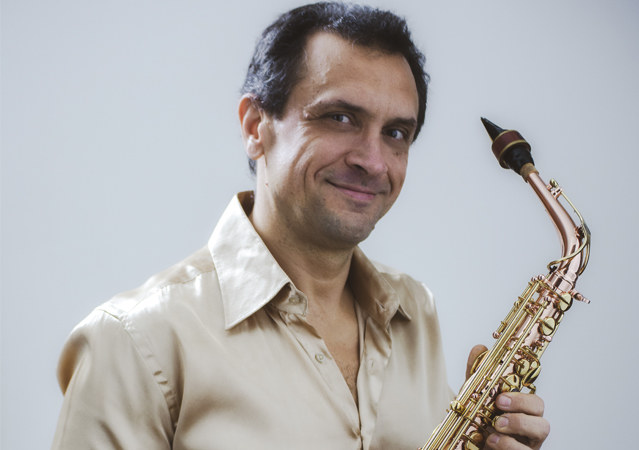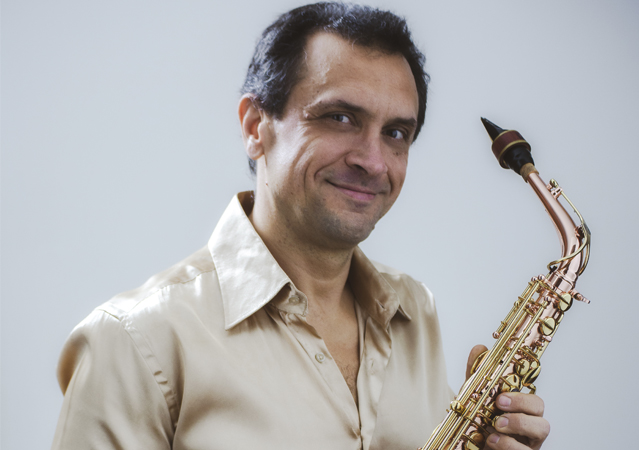 Principal Saxophone with the Banda della Polizia di Stato
Gabriele Francioli, italian eclectic musician, graduated in Clarinet at the « Lorenzo Perosi » Conservatory in Campobasso and in Sax at the « Bruno Maderna » Conservatory in Cesena, obtaining in both, the highest marks. Later he obtained at the AFAM Institute Giulio Briccialdi of Terni the diploma of bassoon, new order with the vote of 110 laude.
He works permanently as a conductor, clarinet, sax and solo bassoon with numerous orchestras: Arad Romanian National Symphony Orchestra, Moldovan State Radio Orchestra, Venezuela State Symphony Orchestra – City of Valencia – Romanian Symphony Orchestra « Banatul » – Timisoara, Vicenza Olympic Theatre Orchestra, Craiova Opera House Orchestra – Romania, Orchestra « Camerata Florianopolis » – Brazil, Romanian State Symphony Orchestra of Botosani , Romanian State Philharmonic Orchestra « City of Oradea » etc. Various collaborations with Italian orchestras including: « Spoleto Festival Orchestra »,  » Orchestra del Teatro Lirico Sperimentale « A. Belli » di Spoleto, Orchestra Giovanile Italiana (I cl. from 1994 to 1996), « Roma Sinfonietta », Orchestra della Sagra Musicale Umbra, Orchestra D.I.M.I of Rome, Orchestra « I Solisti di Perugia », Orchestra AMIT di Roma, Orchestra Cucinelli, under the guidance of prestigious conductors such as Riccardo Muti, Carlo Maria Giulini, Giuseppe Sinopoli, Myung-Whun Chung, Gianni Ferrio, Renato Serio, Demo Morselli also collaborating with great soloists and singers such as Pooh , Claudio Baglioni, Gianni Morandi, Renato Zero, Fiorello, soprano Katia Ricciarelli, Mariella Devia, Amii Stewart, violinist Massimo Quarta, Gianluigi Trovesi, etc.
In 2000 he won the competition in the Musical Band of the Italian Wind Band Police, holding the place as a clarinet in a row.
In 2008 he again participated in a new competition called by the Ministry of the Interior, winning the role of I sax contralto of the Italian Wind Band Police.
His intense concert activity, more than 1.000 concerts, of which over 200 as soloists with various orchestras, led him to perform in the major theaters and squares of the world: New York, Washington, Jerusalem, Vienna, Prague, Berlin, Rome, Caracas, Santiago de Chile, Montevideo, Istanbul, Oslo, Milan, Montreux, Potsdam, Ljubljana, Munich, Viña del Mar, Maracaibo, Parma, Florence, Verona , Palermo, Taormina, Ferrara, Spoleto, etc. playing for prestigious associations or music festivals: Ravenna Festival, Amici della Musica di Perugia, Accademia di Santa Cecilia di Roma, Accademia Musicale Chigiana di Siena, Filarmonica Trentina, Spoleto Festival, Montreux Festival… First prize overall at the  » International Vocal and Instrumental Performance Competition of San Bartolomeo al mare » and « Golden Oak » Award 1993 edition of the same competition was also the winner of the first prize in other and numerous national music competitions: music competition « A.M.A. Calabria  » by Lamezia Terme; at the competition « G. Battista Pergolesi » in Naples, piano competition – instrumental « S. Cecilia » of Boscoreale (Naples), competition « Città di Barletta »; music performance review « Felice Romani » by Moneglia (Genoa). Very active in chamber music is the founder of the « Gabriele Francioli sax quartet » an extravagant formation that faces an captivating repertoire straddling classical and jazz music, the duo Francioli Scarabottini clarinet-sax soprano and accordion with which they have recently recorded a CD and the Trio di Spoleto (sax sopr. cl.-accordion and double bass); He is the dedicatee of numerous musical works by contemporary authors, among which the Sonata for clarinet and piano by Gerard Rosenfeld, and "Cadeu" by Angelo Bruzzese. He attended Master Classes of Richard Stoltzman, Riccardo Brengola, Gervase De Peyer, Giuseppe Garbarino, Jean Marie Londeix, Claude De Laingle obtaining scholarships and merit diplomas at the Accademia Musicale Chigiana in Siena. In 1999 he collaborated with the Festival dei due Mondi in Spoleto as artistic director of the concert series « Umbria Segreta »; Since 1999 he has been artistic director of the Musikè Cultural Association in Spoleto; Since 2016 he has been president of the Spoleto Musica Music Association that manages the teaching of the municipal school of music and dance « Alessandro Onofri » of Spoleto also covering the teaching of sax and bassoon chairs.
In 1999 he held the role of Artistic Director of the concerts « Umbria Segreta » as part of the prestigious « Festival dei Due Mondi » of Spoleto.
In 2004 he was artistic director of the « Estate Spoletina », the international music and art festival organized by the Municipality of Spoleto. He has made recordings for Italian state television – RAI, Mediaset and Vatican Radio. He studied composition at the AFAM Higher Institute of Musical Studies « Giulio Briccialdi » in Terni.
Instruments
Senzo

Retour en Haut