Search
Stefan Harg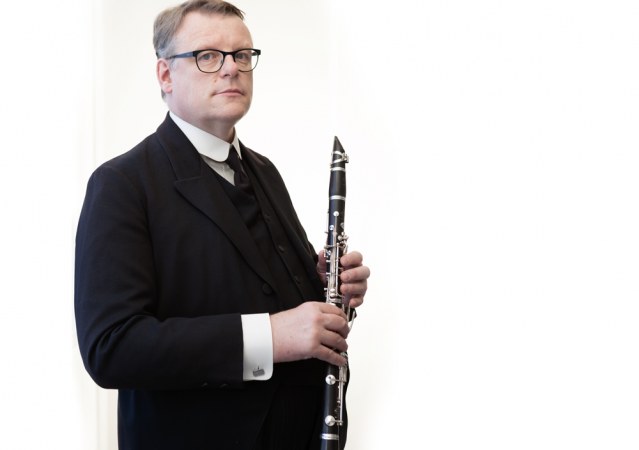 International Soloist
Stefan Harg is internationally recognised as a multifaceted and renowned musician and educator. He gives concerts as a chamber musician, soloist and orchestra musician and cooperates with leading musicians and conductors. This has led to new and future collaborations with many world leading interpreter. A large number of composers have written music for Stefan. He has collaborated with, among others, Luciano Berio, György Ligeti and Libby Larsen. As soloist Stefan has premiered many works. Commissions for solo clarinet by Swedish and foreign composers is an ongoing project. One of Sweden's most interesting composer Katarina Leyman wrote Clarinet Concerto Verdure for Stefan.  The concert was broadcast LIVE in SR radio and attracted a huge response. Dialogue the L'ombre double for clarinet and electronics (1985) written by Pierre Boulez will performed on numerous occasions giving it is Nordic premier.
Stefan performed last spring, Carl Nielsen Concerto at many spectacular appearances. In October 2012, his interpretation of Jean Francaix concert and Claude Debussy's Première Rhapsodie at anniversary concerts in France was hailed by critics and public. Stefan is invited regularly as a soloist in Swedish and foreign orchestras and has worked with Esa-Pekka Salonen, Yevgeny Svetlanov, Kurt Sanderling, Sixten Ehrling, Valery Gergiev, Sir Colin Davis, David Robertson, Sir John Elliot Gardiner and Bernhard Haitink to name a few prominent conductors.
Stefan works in different contexts with Chamber music and is invited to the most important chamber music scenes in the world and participates in Swedish festivals as well as at festivals in the United Kingdom, Slovenia, Austria, France and the United States. He is considered as one of the world's leading performer of Mozart concerto and has he played it across Europe in recent years. Now also on a A = 430 copy of Anton Stadlers bassettclarinet. In the TV program Mozart's Lost clarinet (2014) that focuses on Mozart's clarinetist Anton Stadler has attracted audiences and critics success, in which Stefan participates with Mozart's Clarinet Quintet and in Arias from La Clemenza di Tito.
Stefan is since 2015 Adjunct Professor of clarinet at Örebro Music University. Stefan has taught at the Royal College of Music in Stockholm in 2000-2006 and gives master classes throughout Europe and in the United States. He works actively to educate woodwind in cultural schools and organises study days or individual coaching.
Stefan was educated at the Royal College of Music in Stockholm with Soloist Diploma (1990) and Kammarmusik Diploma (1988) Further studies abroad with Guy Deplus and Walter Boeykens. Stefan has performed at the ICA's ClarinetFests in New Orleans (2001) He was the host and artistic director for ClarinetFest2002, held in Stockholm in 2002. He is National Chairman for ICA-International Clarinet Association in Sweden. Stefan is represented on several CDs. Stefan is a performing artist of Vandoren, Paris
More info www.stefanharg.se
Instruments
RC Prestige

Retour en Haut