Search
Moritz Köther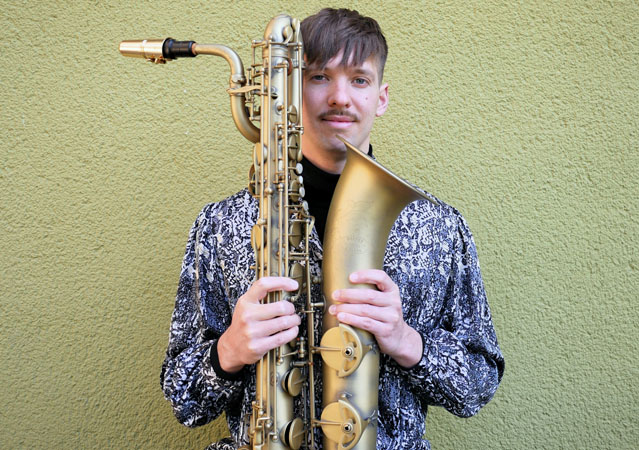 International soloist
Moritz Köther, saxophone visionaire, is a internationally accomplished touring musician playing concerts ranging from the Mercedes-Benz-Arena in Berlin to the mayor's office in
Singapore. He combines his love for wind instruments with his natural talent of performance to create a truly unique artistic repertoire that reaches from sound to expressive arts.
Only at the age of 16 did Moritz develop an interest in music and saxophone specifically. His focus then shifted from the skatepark to the practice room and within a couple of years he entered one of the top jazz education programs in Europe at the "Jazzinstitue Berlin". There he studied with world renowned jazz musicians like Peter Weniger, Claudio Puntin, Greg Cohen, John Hollenbeck and Kurt Rosenwinkel. In 2013 he graduated with a BA in Music equipped with a colourful set of skills and inspiration.
Over the years Moritz has developed a unique sound on the alto saxophone, as well as the clarinet and baritone saxophone, which can be experienced as a fine, flute-like tone accompanied by a distinct sense of melodic detail. His musical language draws its inspiration from different genres like balkan music, indie rock and funk while never losing its jazz spirit. Some of his biggest musical influences include his long term mentor Hayden Chisholm, as well as Soweto Kinch, Braxton Cook, Lee Konitz, Paul Desmond and Charlie Parker.
Throughout the last decade Moritz has played with a diverse variety of bands that have taken him across the globe. In 2019 he recorded a studio album with the Omiversal Earkestra in Mali, Africa collaborating with Salif Keita, Sory Bamba and Cheick Tidiane Seck. His 2019 European tour with Spanish pop star Alvaro Soler involved stadium shows and big name festivals in upwards of ten countries.
Moritz's most recent studio albums include his band HJORTRON's "SkateFolk" (QFTF; 2021) with Swiss guitar player Anatole Buccella and the Omniversal Earkestra's "le MALI 70" (Trikont; 2020). To this very day he practices daily and loves to be involved with all kinds of creative endeavors.
For more please visit www.moritzkoether.de
Instruments
Baritone 400 Series

Retour en Haut