Search
Giovanni PUNZI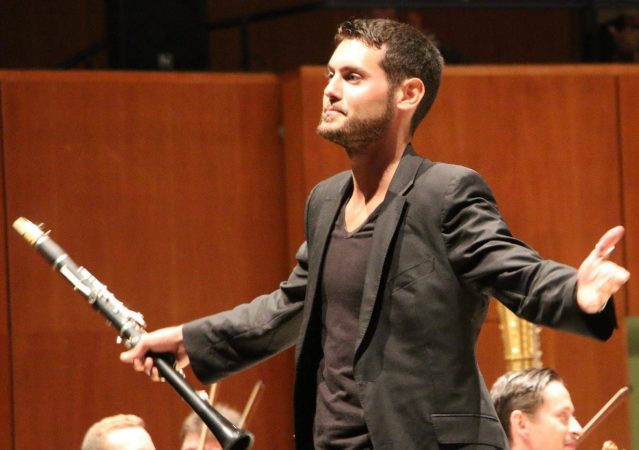 International Soloist
Principal clarinet of the Copenhagen Philharmonic Orchestra Giovanni Punzi is Born in Salerno in 1989 and graduated with a performer's degree for clarinet in 2006 with full notes.
Even thought the young age Punzi actually ranks among the most distinguished european clarinet players of his generation.
After his debut as solist at the age of 14 with the Bulgary National Orchestra he performed in the main concert halls of Europe, USA, Russia and China and South America
Student of Calogero Palermo and Alessandro Carbonare in Rome at the Accademia di Santa Cecilia he continued his studies at the National Conservatory of Music in Paris with Philippe Berrod.
In 2011 he is awarderd by the Honour Diplom reserved for the best students ever by the Accademia Chigiana in Siena
He started his Orchestral Activity at the age of 20 as solo clarinet in the Orchestra "I Pomeriggi musicali' in Milan.
After having performed with the most important italian Orchestras Since 2012 to 2013 Giovanni Punzi has been Principal Clarinet of the 'Orchestre Symphonique de Bretagne".
He has been invited to perform as principal clarinet by the Gustav Mahler Jugend Orchestra, the Verbier Festival Orchestra and the Shleswig Holstein Festival Orchestra, playng under the direction of some of the most important music directors in the world like C.Abbado, R.Muti, V. Gergiev, D.Gatti, K.Nagano..
Recently His activity as solist took him to play as solist with the Copenhagen Philarmhonic, the Chamber Orchestra of Paris, the Freiburger Philarmoniker, Chamber Orchestra of Serbia, Orchestra of the London Royal College of music, the Rouen's Opera House Orchestra and the Chamber Orchestra of Parma.
Giovanni Punzi has played all the most representative clarinet concerts of his repertory from Mozart to Francaix
In the last five years Punzi has been awarded in over then 10 among the most distinguished International Clarinet Competitions.
Beside the most important Italian Clarinet Competition he has been awarded in Paris (Claude Debussy competition 2010), Rouen (Jacques Lancelot competition 2011), Belgrade (Jeunesses Musicales), Freiburg and Horice (Czech International Clarinet Art Competition)
In fact is actually one of the most awarded clarinet player of International Competition worldwide of the last years.
He recorded for Radio France, Radio Vaticano, Danish Radio,Radio 3 and Sky Classica.
Since 2009 Giovanni Punzi is also a student of Art and theatre in the University of Salerno (Italy).
Instruments
Prestige Basset

RC Prestige

Retour en Haut