Search
Gabriela Castro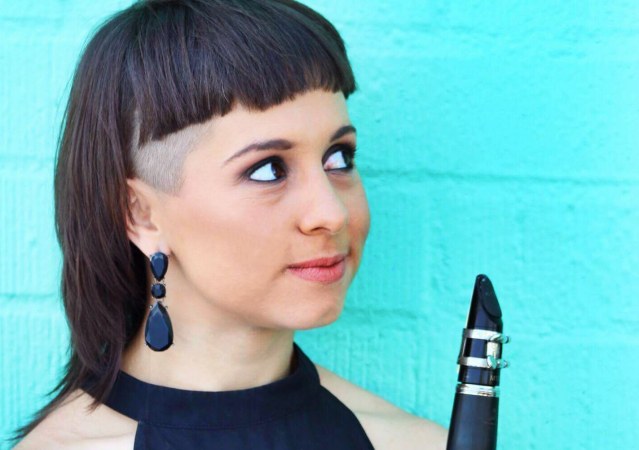 Four Play Clarinet Ensemble
Originally from Santa Clarita, CA, Gabriela Castro completed a Master of Music degree at the School of Music at Cal State University, Fullerton, where she studied with Burt Hara of the Los Angeles Philharmonic. She also completed a Bachelor of Music degree at CSUF in the spring of 2013, her primary teachers being Hakan Rosengren and Margaret Worsley. In addition to these teachers, she was chosen to play in several master classes for elite performers and pedagogues such as Yehuda Gilad, Anthony McGill, Alexander Fiterstein, Mark Nuccio, and Nathan Williams. While at CSUF, Gabriela performed in the CSUF Symphonic Winds, Wind Symphony, and Symphony Orchestra, where she served as principal and co-principal clarinetist for two consecutive years (2013 – 2015). With the Wind Symphony and Symphony Orchestra, she traveled abroad on tours with them to Portugal, China, and France. She also toured South Korea as part of a hand-selected small ensemble representing the university. Gabriela has also performed abroad at the Hawaii Performing Arts Festival and in Canada at Domaine Forget, where she performed in small chamber ensembles and in master classes hosted by David Campbell and Eric Mandat.
Gabriela also performs frequently with her Los Angeles based quartet, Four Play Clarinet, an ensemble that combines their classical training with a passion for popular musical genres. Together with her bandmates, she helped build a following on YouTube channel, with nearly two million channel views and counting, with their cover videos of well-known pop and electronic songs by artists such as Major Lazer, Calvin Harris, Eurythmics, and Daft Punk. She also runs her own YouTube channel, Musicians Prime, whose objective is to spawn and cultivate the next generation of classical music content creators.
Gabriela plays on a set of Buffet R13 clarinets, a Vandoren M13 Lyre 13 Series mouthpiece, and Vandoren Traditional reeds.
Instruments
R13

Retour en Haut