Search
Dario Brignoli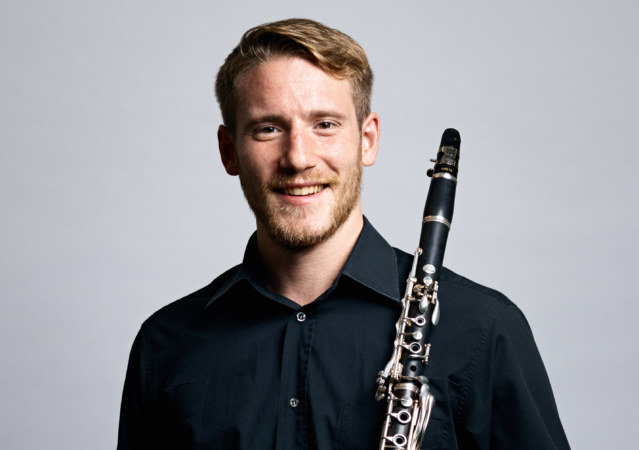 Principal Clarinet - Tucson Symphony Orchestra
Italian clarinetist, Dario Brignoli, began studying clarinet at the age of eleven with Luigi Magistrelli at the Conservatory Verdi in Milan. At thirteen he participated in his first competition, winning the second prize in the category up to seventeen years old, surprising the jury's chairman Karl Leister with his innate musicality. Throughout his teen years he won eight national competitions and at the age of seventeen the High School Solo Competition, organized by the International Clarinet Association, held in Tokyo during the "ClarinetFest".
Dario graduated with a Bachelor's degree at eighteen from the Conservatory in Milan and then studied for one semester at the CNSM in Paris with Pascal Moragues and then in Rome for one year with Alessandro Carbonare. As a member of the Cherubini Youth Orchestra, an Italian orchestra founded and directed by Maestro Riccardo Muti, he played in many venues throughout Italy, Europe and the World. In the period of 5 years he performed in Milan, Rome, Napoli, Spoleto, Ravenna, Genova, Torino, Paris, Koln, Vienna, Salzburg, Madrid, Buenos Aires, Muscat, Manama, Nairobi, and many more. Dario qualified to participate in the European Union Youth Orchestra tour in 2011-2012. Selected from more than 600 young European clarinetists, he performed with Maestro Vladimir Ashkenazy in Italy, Spain and Poland in 15 different locations.
After winning the International Clarinet Competition "Mercadante" in 2012, Mr. Brignoli won first clarinet position at the Ensemble Bernasconi, the contemporary music ensemble of the Academy Teatro Alla Scala. In 2013, he won the audition at the Orchestra Unimi, based in Milan, with which plays for three years. He then moved to Copenhagen, Denmark, where he studied with Jorgen Jensen at the royal Danish Academy of Music, graduating with a Master's degree in 2016.
Mr. Brignoli has performed with Copenhagen Philharmonic, Aalborg Symphony and Sønderjyllands Symfoniorkester in Denmark, with Macao Symphony Orchestra, and in summer festivals around the world, including Schleswig-Holstein Music Festival Orchestra (orchestra founded by Leonard Berstein and conducted that year by Christoph Eschenbach) and the Master Music Course Japan in Yokohama (a chamber music course organized by Jennifer Gilbert, founded by Naoto Otomo and Alan Gilbert.).
In August 2016, Mr. Brignoli relocated to Los Angeles to become a full-time student of Yehuda Gilad at the University of Southern California, with the support of a Fulbright Scholarship.
Dario won the audition for Principal Clarinet of the Tucson Symphony Orchestra in April 2017 and has been playing with the orchestra since October of that year, receiving enthusiastic responses from audience and management alike.
This spring, Mr. Brignoli was awarded tenure Principal Clarinet. In March 2019 he won the Principal Clarinet position at Grant Park Orchestra in Chicago and also got tenure.
Instruments
RC Prestige

Tradition

Retour en Haut