Recherche
Mikhail Mering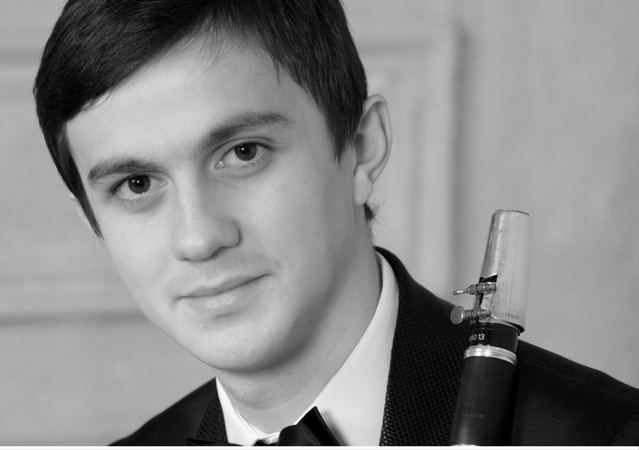 Second clarinet & soloist E-flat clarinet at Bolshoi National Theatre of Russia orchestra
Mikhail Mering was born in Moscow in 1991. He studied with Professor Ivan Mozgovenko in the Moscow State Institute of Music A.G. Schnittke, and completed formal studies at the Conservatoire à Rayonnement Régional de Versailles with Professor and soloist Philippe Cuper. He graduated with the highest honors from the Versailles Conservatory (premier nommé à l'unanimité avec les félicitations du jury).
Mikhail is a member of The Vladimir Spivakov International Charity Foundation. Within the activities of this foundation, he played in many prestigious halls in Russia, Hungary, Germany, Italy, Spain, Serbia, Czech Republic, Switzerland, Japan, Denmark, Israel, USA, France, etc. He also participated in Masterclasses with Matthias Müller, Antonio Saiote, etc.
Throughout his career he played as soloist with several fine orchestras, as "Moscow Virtuosi" Chamber Orchestra, The National Philharmonic of Russia, Tchaikovsky Symphony Orchestra, Georgian Chamber Orchestra, Tokyo Symphony Orchestra, etc.
In addition, Mikhail participated in several international competitions. His awards include a first prize in the first Béla Kovács International clarinet competition, a third prize in the second Jacques Lancelot International clarinet competition, and is the winner of the third Moscow Conservatory International Woodwind Instruments competition (second and special prize, first prize not awarded). Since 2015, Mikhail Mering performs as the second clarinet and soloist E-flat clarinet at the prestigious Bolshoi National Theatre of Russia orchestra.
Mikhail Mering is laureate of the National Young Award «Triumph» of Russia. He plays Buffet Crampon clarinets graciously offered by Maestro Vladimir Spivakov. Mikhail Mering is also a Vandoren artist.
Instruments
Tosca

Retour en Haut