Recherche
Victor Chavez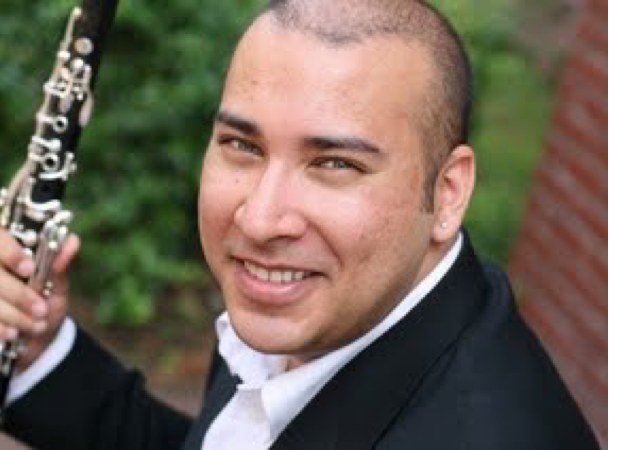 Assistant Professor of Clarinet University of Tennessee
Dr. Victor Chávez, Jr. is a Mexican-American, fifth-generation musician from El Paso, Texas. He is currently Associate Professor of Clarinet at the University of Tennessee Knoxville and holds tenured orchestral positions as third/bass clarinetist with the Knoxville Symphony Orchestra, principal clarinetist of the Johnson City Symphony Orchestra in Johnson City, TN; the Symphony of the Mountains in Kingsport, TN; and the Tri-Cities Opera Company in Binghamton, NY. Additional teaching engagements include faculty positions at the California Central Coast Orchestra & Jazz Academy (COJAC) and Round Top International Festival Institute.
Internationally, he has lectured/performed at the Round Top Festival Institute, the International Clarinet Association Festivals in Baton Rouge, LA 2014; Madrid, Spain 2015; Lawrence, Kansas 2016; Orlando, Florida 2017; Ostend, Belgium 2018; and Knoxville, TN 2019.  Additional international teaching and performance engagements include Costa Rica; France; Kasetsart University and Satit PIM Panyapiwat Institute in Bangkok, Thailand; and the Tainan National University of the Arts in Taiwan.  In 2015, he worked with Daraja Music Initiative's Clarinets for Conservation in Moshi, Tanzania, teaching and advocating for greater awareness and preservation of African Blackwood (mpingo) used to make clarinets.
Nationally,  Vic has presented masterclasses at various universities/institutions across the United States, most notably, the San Francisco Conservatory, Northwestern University, DePaul University, University of Michigan, Cincinnati College Conservatory of Music, Vanderbilt University, Ithaca College, and the Eastman School of Music.  Other national and regional performances include the Brevard Music Festival, the College Music Society Conference, the North American Saxophone Alliance, and KMTA/TMTA organizations. His solo performances can be heard on National Public Radio's WUOT 91.9 FM, Knoxville.
In June of 2017, Vic performed his Carnegie Hall debut in Weill Recital Hall with pianist Dr. Joong Han Jung as part of the Víjon Duo.  Other notable performances include The Cleveland Orchestra, Knoxville Symphony Orchestra, Knoxville Opera, Waco Symphony Orchestra, Binghamton Philharmonic Orchestra, Erie Chamber Orchestra, Belton Symphony Orchestra, Marble City Opera, Oak Ridge Symphony Orchestra, Symphony of the Mountains, Murfreesboro Symphony Orchestra, and the Big Ears Festival.  As an active soloist, has performed Nielsen's Clarinet Concerto, Weber's Concerto No. 2 in Eb, Navarro's – II Concerto, and Spohr's Concerto No. 4 with various orchestras.
Vic earned various prizes as a performer: twice at the El Paso Artists Guild Concerto Competition; twice at the Entergy Young Texas Artists Competition; Baylor University Concerto Competition; the International Sorantin Concerto; DePaul University Concerto Competition; and the Round Top Festival Concerto Competition. He has attended the Brevard Music Festival, Blossom Music Festival, and Round Top Music Festival and has earned degrees from Baylor University-BME, DePaul University-MM, and The Eastman School of Music-DMA. His primary pedagogues include Larry Combs, Guy Deplus, Jon Manasse, Julie DeRoche, Kenneth Grant, Dr. Richard Shanley, Dan McKelway, Alan Olson, and Vin Richards.
In 2006, Vic was awarded the prestigious Fulbright Lusk Fellowship, allowing him to study in Paris, France under the tutelage of Guy Deplus. While in Paris, Vic conducted his Fulbright research in pedagogy, performance practice, and literature. In 2019, Vic was awarded the Artistic Directorship to host the International Clarinet Association's ClarinetFest® at the University of Tennessee in Knoxville with over 1,700 clarinetists and guests in attendance. He and his Artistic Leadership Team set and currently hold a new Guinness World Record for the Largest Clarinet Choir ever assembled consisting of 367 people.
He has served as a board member for the Marble City Opera in Knoxville, TN as well as various AFM union positions in both Tennessee and New York.  He has served as a judge for the International Clarinet Association's orchestral excerpt competition, as well as regional competitions in the state of Tennessee.
In his spare time, Vic enjoys spoiling his 112 lbs. Rottweiler puppy, Violet, and listening to K-Pop's SHINee.
Vic a Buffet Crampon Artist and plays on Buffet Crampon clarinets.
Retour en Haut