Recherche
Min-Ho Yeh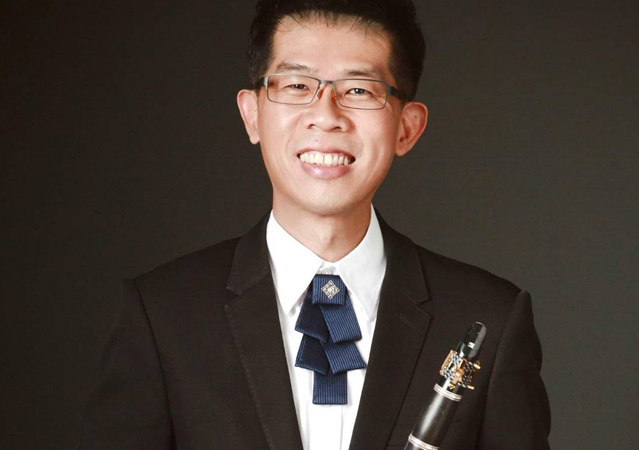 Professor of Clarinet at the National Kaohsiung Normal University in Taiwan
Min-Ho Yeh is Professor of Clarinet at the National Kaohsiung Normal University in Taiwan. He holds a Bachelor of Arts from the National Taiwan Normal University, a Master of Music from New England Conservatory, and a Doctor of Music degree from Indiana University. His primary teachers include Yong Lai, Gao-Yong Lai, Wei-Leng William Chen, Thomas Martin, and James Campbell.
He has appeared at festivals such as the Norfolk Chamber Music Festival (1997), the Festival of the Sound (2000). He has also been invited several times to perform solo and chamber music at the ClarinetFests and the Taiwan Connection Music Festival. He has appeared on recordings such as Bridges to Bloomington with Trio Indiana (Crystal Records), Angelus Novus: compositions of John Zorn (Tzadik Label), Contemporary American Wind Music with the NEC Wind Ensemble (Albany Records), and 66 Times—a music album of composer Shih-Hui Chen (Albany Records). His recordings include J. S. Bach's Six Organ Trio Sonatas with Zephyr Trio (2004) and Dancing Clarinets album with the Magic Clarinet Quartet (2007)
He has been invited by many institutes for recitals and master classes, such as the Yong Siew Toh Conservatory in Singapore (2012), the Hong Kong Academy for the Performing Arts (2012), Xiamen University (2013), Xian Conservatory (2014), Beijing's Central Conservatory (2016), and Busan, Korea (2017).
He was a member of the Asian Youth Orchestra, the National Taiwan Symphony Orchestra, Conway Symphony Orchestra, Sunaura Woodwind Trio, and the Magic Clarinet Quartet. He taught at the University of Central Arkansas (USA) between 2002-2006 and has been on faculty at the National Kaohsiung Normal University since 2006. He is also a member of the Counterpoint Ensemble and plays Buffet Crampon Buffet Tosca model Bb, A, and bass clarinets.
Instruments
Tosca

Retour en Haut