Recherche
Anthony J. Costa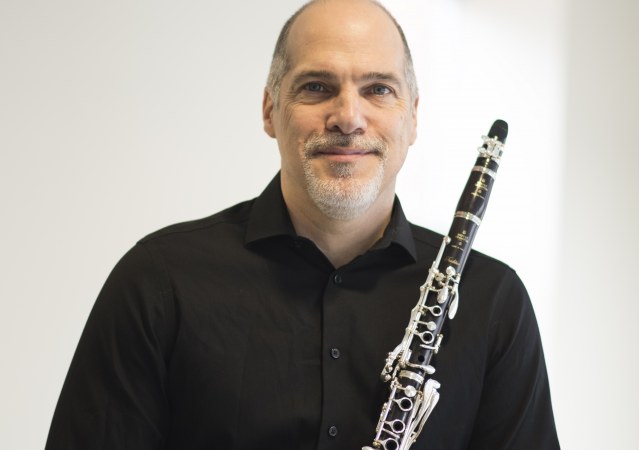 Associate Professor of Clarinet - Penn State University
Dr. Anthony J. Costa is Associate Professor of Clarinet at Penn State and clarinetist with The Pennsylvania Quintet, The Prestige Clarinet Quartet and The Chihara Trio. He was the recipient of the 2016 College of Arts and Architecture Faculty Award for Outstanding Teaching.
Dedicated to his role as artist-teacher, Costa taught clarinet and music courses at Otterbein College, Ashland University and the College of Mount St. Joseph in Ohio before joining the faculty at Penn State in 2008. For two years he was a collaborative artist with Chamber Music America's "Rural Residency Program" and worked with communities in Mississippi County, Arkansas as a performer and music educator.
In demand as an orchestral clarinetist, Costa served as utility clarinetist/bass clarinetist with the Dayton Philharmonic Orchestra and Dayton Opera Orchestra from 1999 to 2011 and currently performs as principal clarinetist of the Music at Penn's Woods Festival Orchestra and Pennsylvania Chamber Orchestra. Additionally, he has performed with the Cincinnati Chamber Orchestra, Columbus (OH) Symphony Orchestra, Akron Symphony Orchestra, Canton Symphony Orchestra, Lancaster (OH) Festival Orchestra, Erie Chamber Orchestra, Erie Philharmonic Orchestra, and the Wheeling (WVA) Symphony Orchestra. He has performed with such artists as "The Three Tenors" (Pavarotti, Domingo, and Carreras), Midori, Sarah Chang, "The Big Voodoo Daddy" and Ray Charles. Recent solo performances have included the Bruch "Double Concerto" with violist Timothy Deighton with the Music at Penn's Woods Festival Orchestra; Scott McAllister's "Concerto X" and Michael Daugherty's "Brooklyn Bridge" with the Penn State Wind Ensemble; and the Artie Shaw "Clarinet Concerto" with the Nittany Valley Symphony Orchestra.
Costa is a devoted chamber musician and has performed across the United States and Europe as a member of The Pennsylvania Quintet, The Prestige Clarinet Quartet, The PC2 Trio and the Razbia Ensemble. He has been featured as a soloist and chamber musician at the 2007, 2011 and 2014 International Double Reed Society conference, the International Clarinet Association's ClarinetFest (in 1998, 2006, 2008, 2011- 2017) and the Oklahoma Clarinet Symposium (in 2005 and 2008). A champion of contemporary music, Costa has collaborated with such renowned composers as John Corigliano, Gunther Schuller, John Harbison, Paul Chihara, Andrea Clearfield, Daniel Dorff, James Grant and Osvaldo Golijov. Having recorded the works of composer Rick Sowash on recent releases (Eroica and Sanctuary at 3AM), Costa can frequently be heard on classical radio stations across the U.S. With the Chihara Trio (Timothy Deighton, viola, and Enrico Elisi, piano), Costa has presented newly commissioned works by several composers (including Paul Chihara, from whom the trio takes its name), and presented a recital at Carnegie Hall's Weill Recital Hall in March 2010. The Chihara Trio is represented by Arioso Artists Management and can be heard on Paul Chihara's recording "Love Music". In the summer of 2010, Costa taught and performed in Alaska at The Fairbanks Summer Music Festival.
Committed to mentoring young clarinetists, Costa's students have participated in such esteemed festivals as the Aspen Music Festival, Eastern Music Festival, Boston University's Tanglewood Institute, the Interlochen Arts Camp, the Brevard Summer Music Festival, the Blue Lake Fine Arts Camp and the Pennsylvania Governor's School. His students have won second place in both the International Clarinet Association's High School Competition and Orchestral Excerpt Competition, and have been finalists in the Columbus Symphony Orchestra's Concerto Competition. Many of his students have performed as members of the Columbus, Cleveland and Central Pennsylvania Youth Orchestras.
Costa attended the University of Cincinnati College-Conservatory of Music and received a bachelor of music degree in music education and clarinet performance. He received his master of music degree in clarinet performance from Temple University in Philadelphia, PA and his doctorate of a musical arts degree from The Ohio State University. His teachers have included Carmine Campione, Anthony Gigliotti, Ronald Auffman and James Pyne.
Anthony Costa lives in Boalsburg, PA with his wife, oboist/Alexander Technique Teacher Robyn Dixon Costa, daughter Zoey and dog, Stella.
Instruments
R13 Prestige

Retour en Haut