Recherche
Alicja Wołyńczyk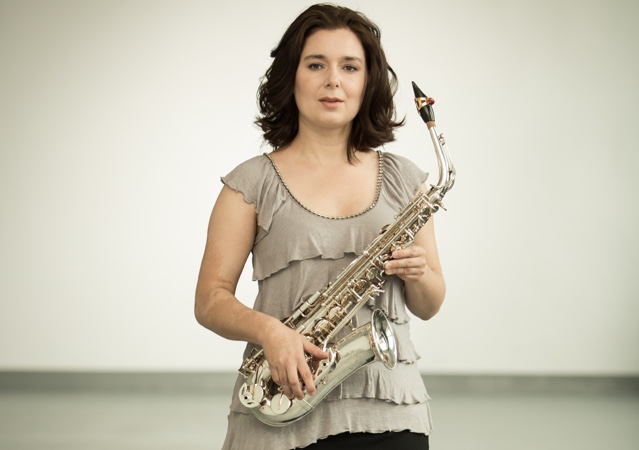 International soloist, Lecturer, Teacher in Music School in Warsaw and Garwolin
In 2014 she finished PhD studies in saxophone at Chopin University of Music (Warsaw) in prof. Miroslaw Pokrzywinski and prof. Pawel Gusnar class. She has completed her saxophone studies with distinction at Warsaw Academy of Music (University since 2009). Finished her BA and MA in Information Services and Librarianship at Warsaw University. Received scholarship from Polish Ministry of Culture and Socrates-Erasmus. She was invited to be one of 14 Polish Socrates-Erasmus' scholars for celebration of 25th annniversary of the programme (2012). She has perfected her skills during international masterclasses with renowed saxophonists such as Arno Bornkamp, Vincent David, Claude Delangle, Johan van der Linden and many others.
She has played in many European countries, including France, Germany, Switzerland, France, Bulgary, Greece, Belgium and the Netherlands.
As a soloist she has played with orchestras: Sinfonia Viva, Orkiestra Dęta AMFC, chamber orchestra Intermezzo, l'Harmonie des Lambres, under Tomasz Radziwinowicz, Szymon Kawalla, Grzegorz Mielimaka, Pierre Camier.
She also cooperates with National Philharmonic Chamber Music Department, playing concerts for young audience. She's performed on several music festivals, such as Warsaw Autumn (Poland), Musica Polonica Nova (Poland), La Folles Journee (France), Printemps Musical de l'Escaut (France). She also performed at World Saxophone Congresses (2006, 2015); on 30th year gala of saxophone class at Warsaw University of Music (2011). She played polish and world premieres of several compositions (Chambers, Przybylski, de Bond, Eotvos, Schreitl, Falb, Siman, Gronau, Godyla, to name a few).
Her cooperation – which last still – with classical accordionist Jaroslaw Galuszka (les Sons de l'Air duo) has brought her Ist prize and special prize at 43. International Accordion Competition in duo's category. She's also a laureate of several other competitions.
She collaborates with Dorota Samsel (saxophone) in Ars Duo playing contemporary music also written for them (Przybylski, Godyla, Gronau). They've recorded CD "Saxophone Conversations" (DUX, 2014).
With pianist Adam Sychowski she lately played recital in Douai, France 2016 (One More Time duo), and previously has played in Swietokrzyska Philharmonic.
Since 2012 together with austrian saxophonist Cornelia Hoegl she drive a "Austria meets Poland" musical project which is concentrated on creating cross-inspirations between Polish and Austrian performers and composers. The project has strong support of Austrian Forum of Culture.
In 2009-2010 she played in European Saxophone Ensemble, which has the honour to hold the title of Cultural Ambassador of the European Union. They played european tour in 10. Countries, and recorded CD "Aeoration", released in Belgium (A-Shams Records 2011).
In 2015 she was involved in MimOperas a cooperational project between contemporary composers, performers in ensemble and a group of mims.
She colaborates with Flamencos, flamenco music and dance group.
In past, she colaborates with Pawel Gusnar in Academia Saxophone Quartet, in A4 quartet, Magdalena Kordylasinska, Marcin Zdunik, co-formed Transmisja group, Saxmisja Saxophone Quartet, Cafe Cortao, between others.
She has played within the finest Polish orchestras such as National Philharmonic, Sinfonia Varsovia, Sinfonia Iuventus, played under Marc Minkowski, Antoni Wit, Janos Furst, Jerzy Maksymiuk, Etienne Siebens, etc.
Alicja Wolynczyk took part in other chamber and orchestras recordings, e.g. within orchestra: "Penderecki. Concertos for string instruments and orchestra" Sinfonia Iuventus, cond. K. Penderecki (DUX 2015), within saxophone quartet Joanna Turska "Suity Polskie" (Pro Musicae Artis 2011), etc.
She cooperated with Drama Theatre in Warsaw: played in "Tamming of a Screw" by Shakespeare, director: Krzysztof Warlikowski, music: Pawel Mykietyn (1999-2009)
She was a lecturer of masterclasses and workshops in Poland (Warsaw, Szczebrzeszyn, Łomża, Szczecinek, Łódz, Olsztyn, Skierniewice, Sierpc), and France (Valenciennes, Holnon). She teaches saxophone in Music School in Warsaw and Garwolin and her pupils are laureates on several national and international competitions. She invites renowed saxophonists, such as Michel Supera, Cornelia Hoegl, Alfonso Padilla, Johan van der Linden, Pawel Gusnar to drive national masterclasses she organizes. Alicja Wolynczyk managed for five years web site for Polish saxophonists (Dacamera). She has also worked in Radio Classic (in "Music Stock Exhange of RC").
Alicja Wolynczyk plays on Buffet Senzo silver plated alto saxophone, d'Addario reeds (3, 3.0+), and JLV golden ligature.
Instruments
Senzo

Retour en Haut