検索
Juan Ángel JUÁREZ SANDOVAL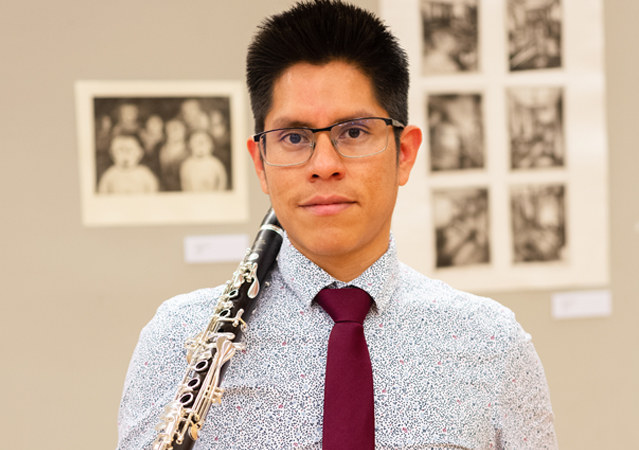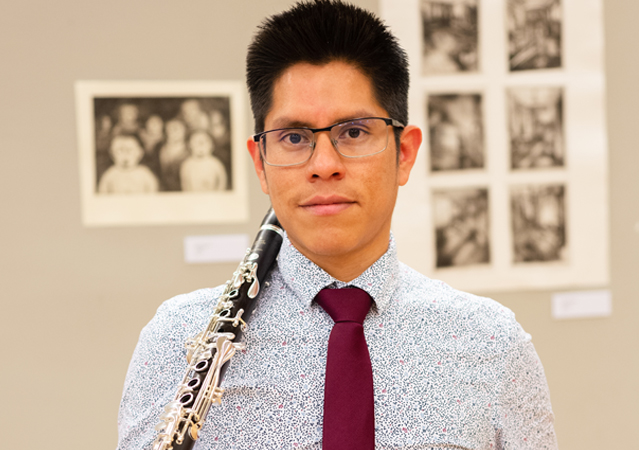 International soloist and professor of clarinet
Clarinet player in "Apollon Ensemble"1 (flute, clarinet and piano), "Voix et Bois"2 (clarinet, voice and cuatro), "Vive Harmonie"3 Symphony Orchestra (principal clarinet) and the "Clarinet Ensemble of Versailles" (B-flat and E-flat clarinets).
Juan Ángel is a Peruvian artist educated in the specialty of "Clarinet Performance" at the National Conservatory of Music (now National University of Music) in Lima, Peru. This artist continued his studies at the University of Versailles, France and received both a Bachelor's and Master's degree in the specialty of "Musicology and Performance" under the tutelage of Philippe Cuper (clarinetist super soloist of the Paris Opera).
Winner of the Latin American International Competition "Clarinet Week 2020" and semifinalist of the international competitions "Louis Cahuzac 2019" and "Saverio Mercadante 2018", Juan Ángel has been invited as a soloist with the National Symphony Orchestra of Peru and the Cusco Symphony Orchestra.
Furthermore, Juan Ángel has had the honour to participate in concerts at the "Hall of Events and Conferences of UNESCO" in Paris, the Cathedral of "Notre-Dame de Paris", the Church of the Madeleine, "La Maison des États Unis" and "La Maison de Portugal" in the "Cité Universitaire de Paris", as well as the "La Maison de l'Amérique Latine" in the Parisian city and the Opera of Versailles. In addition, the artist has performed at the consulates of Peru and the Czech Republic in Paris, and at the Grand National Theater in Lima-Peru.
As an avid educator, Juan Ángel has been invited to give Master classes at the National University of Music in Peru and the Conservatoire de Épinay-sur-Seine in France. Since 2019, Ángel has held the position of clarinet teacher at the Conservatory of Drancy (Île-de-France). Currently, he is studying to obtain the State Diploma as Professor of Classical and Contemporary clarinet at the University of Rouen.
Instruments
RC

Retour en Haut