Recherche
Quang Tran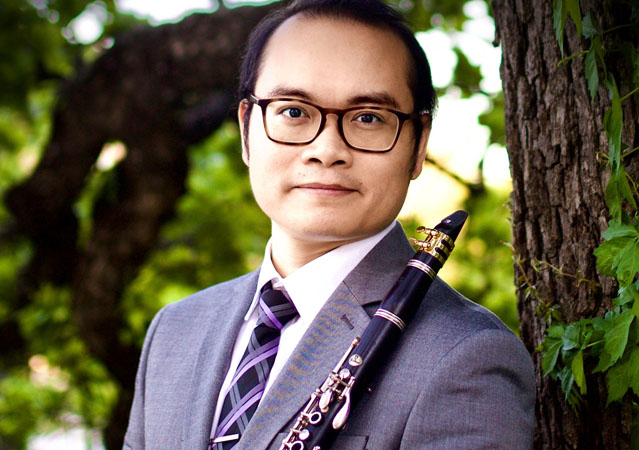 Clarinet professor at Vietnam National Academy of Music
Dr. Quang Tran received the Doctor of Musical Arts degree at the University of North Texas in 2020 under the instruction of Dr. Kimberly Cole Luevano and Dr. John Scott. During his time at UNT he has held the Teaching Assistant position and clarinetist of the Woodwind Quintet of Center for Chamber Music at University of North Texas. Quang earned the Master of Music from Temple University in Philadelphia, where he studied with Paul Demers. He is currently a clarinet faculty at Vietnam National Academy of Music. He is currently holding Chair of Vietnam by International Clarinet Association.
Quang Tran began his formal training in clarinet at the age of fourteen under the instruction of Dr. Vu Dinh Thach at the Vietnam National Academy of Music. Teachers with whom Quang has studied include John Scott, Kimberly Cole Luevano, Paul Demers, Gregory Raden  Ricardo Morales, Steve Barta, Michael Wright among others.
Quang Tran has appeared as a soloist with Hanoi Philharmonic Orchestra, Vietnam National Symphony Orchestra, and the Concert Orchestra at University of North Texas. Quang Tran can be heard from GIA label recordings as principal clarinet with North Texas Wind Symphony. A prolific orchestral musician, Quang has performed as principal clarinetist with orchestras such as Vietnam National Symphony Orchestra, Arkansas Symphony Orchestra, Richarson Symphony Orchestra, Hanoi Philharmonic Orchestra, North Texas Wind Symphony, UNT Opera, South East Asian Youth Symphony Orchestra, American Wind Symphony Orchestra (USA), Canton International Summer Music Academy Orchestra (China), Asian Youth Orchestra, and Temple Symphony Orchestra and Temple Opera. In 2013, Mr. Quang Tran was invited to join the China National Symphony Orchestra for its thirty-concert tour of the United States.
In addition to participating in the International Clarinet Concourse Markneurkichen in Germany, Quang Tran won first prize at the Asian Symphonic Band Competition in Thailand as a member of the Hanoi Student Wind Quintet, and he was the winner of 2018 University of North Texas Concerto Competition. Other awards include a scholarship from the Swedish International Development Cooperation Agency to study at Malmö Academy of Music in Sweden, a scholarship from the Wes Benson Fund to study at the Boyer College of Music at Temple University and a Vietnamese government scholarship which enabled Quang to obtain his Master's degree and Doctor's degree in the United States.
Dr. Tran has participated in conferences, festivals, and performed numerous concerts at  many of the most prestigious concert halls in Berlin, Bonn, Philadelphia, Washington DC, New York, HongKong, Seoul, Dallas, Tokyo, Beijing, Singapore, and many other cities worldwide.
Instruments
Festival

Retour en Haut