Recherche
Magic Clarinet Quartet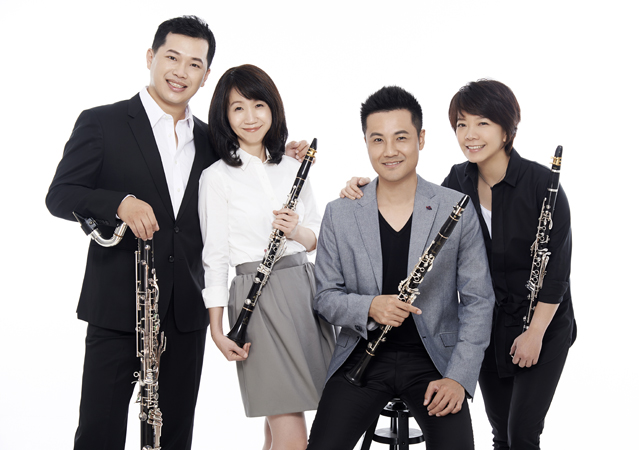 Buffet Crampon Asia performing ensemble
The Magic Clarinet Quartet was founded in 1993 that has completed numerous concerts and projects during the past years.  Now the members are Ti Huang, Pei-yun Lin, Chien-feng Han, and Chih-chien Lin who are all active performers in Taiwan, working as professional orchestra musicians and college professors.
The Magic Clarinet Quartet has played more than one hundred concerts in the prestigious halls as well as in the most remote corners around Taiwan.  It has been chosen by the Culture Center to travel around Taiwan in order to enhance the island's appreciation for refined musical arts. The quartet was also frequently invited to perform in music festivals overseas, such as the annual clarinet festivals held by the International Clarinet Association, Single Reed Festival in China, and many more, making it one of Taiwan's most widely presented chamber music ensembles.
In addition to playing the standard repertoire, the quartet continues to search for newly published compositions and also commission works from composers around the world. Aiming to promote clarinet music in Taiwan, the Magic Clarinet Quartet does its best to provide musical depth while keeping their performances accessible, hoping to make their music as educational as it is entertaining.
In addition to performing, the quartet members also devote themselves to education, towards both young musicians and outreach programs.  It has hosted nine international clarinet festivals from 2003-2021.  There were many world-renowned musicians invited to the festivals, which have received wonderful praised from the participated faculty members and the students.
To broaden the horizon of Taiwan's classical music lovers, the Magic Clarinet Quartet has released its first CD The Dancing Clarinets in 2007, which was nominated for "Best Performance" in classical music category at the "Golden Song Award" in Taiwan. The Magic Clarinet Quartet has been introducing clarinet masterpieces to Taiwan's grassroots audience, and will continue to do so in the future.
The Magic Clarinet Quartet is Buffet Crampon Asia and Vandoren Paris performing ensemble.  All quartet members perform on Buffet Crampon clarinets and Vandoren reeds.
Instruments
Prestige 1193 – 1183

Tradition

Retour en Haut