Recherche
Luigi GRASSO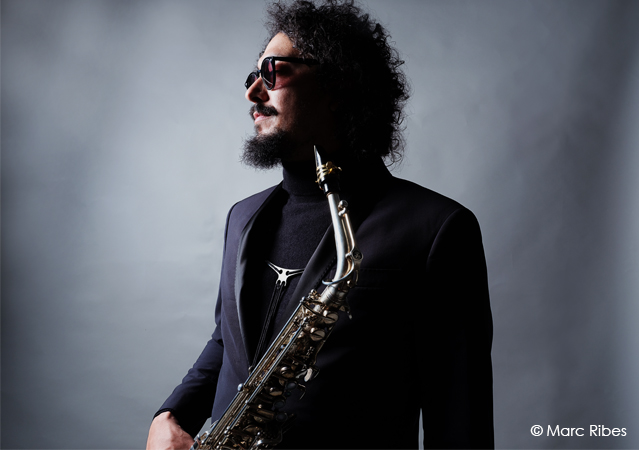 Saxophonist, arranger and composer
Luigi Grasso born in 1986, has emerged as one of Italy's most exciting jazz stars. Since he was 12 years old, he has been invited around the world as guest in different type of bands, from duo to Big Band.
Thanks to the exposure provided by his parents, he discovered jazz and classical music at a very early age. He began saxophone studies at age 5 as a cure for asthma, and was almost entirely self-taught until the age of 11 when he started to attend clinics held by the Berklee College of Music at the Umbria Jazz Festival (Perugia, Italy). He was subsequently offered a full tuition scholarship to travel to Boston for the Berklee Summer Program.
In 1997, he won the international young talent competition "Bravo Bravissimo", which launched his professional jazz career, resulting in performances at the most prestigious festivals, clubs, theaters and TV shows throughout Europe.
In 1999, at the age of 13, his debut recording "A Love Supreme" (Java records), was released.
He continued his studies in Italy with the American guitarist Agostino Di Giorgio, in addition to his close apprenticeship with NEA Jazz Master Barry Harris as a participant and educational assistant in Dr. Harris' European master classes from 2001-2009.
In 2004, Luigi began studies in classical composition, harmony and counterpoint at the "Giovanni Martini Conservatory" in Bologna, under the instruction of Chiara Benati and Francesco Carluccio.
In 2010, he moved to Paris where he currently teaches saxophone at the CMA9, CMA11, CRR, PSPBB.
In 2013, he formed the "Luigi Grasso Quartet", featuring his brother Pasquale Grasso on guitar, bassist Mathias Allamane, and American drummer Keith Balla. The Quartet released "Ça Marche" and toured extensively throughout Europe, receiving widespread critical acclaim. In the same year, he was a featured soloist on "Crazy Blues" (Universal), an important release by China Moses and Raphael Lemmonier. With Luigi as principle soloist, the ensemble has performed in twenty-two countries worldwide in the last two years.
In 2014, he recorded his Octet in New York City featuring Pasquale Grasso (guitar), Ari Roland (bass), John Mosca (trombone), Chris Byars (tenor sax), Stefano Doglioni (bass clarinet), Fabien Mary (trumpet) and Keith Balla (drums) giving birth to The Greenwich Session.
In the same year he also co-write the Radio spot of ENI with the Italian soul artist Luca Sapio.
From 2015 to 2018 he was the musical director for China Moses's new project " Nightintales".
In 2016 Luigi is also the director of the project POP-UP THE JAM! by Buffet-Crampon with the goal to create a new meeting point for all musicians; with ten appointments of concerts/jams, this project gives a big opportunity to students to share the scene with professional musicians in the wish to transmit jazz music as a performing art and generate with years, a strong musical scene.
In between 2014 and 2017 Luigi gave more than 600 concerts with different projects and recorded more than fifteen albums with international jazz artists and bands such China Moses, NDR Big Band, Joan Chamorro & Sant Andreu Jazz Band, Alain Jean-Marie, Pierre Boussaguet, Ignazi Terasa, Rossano Sportiello, Géraud Portal, Michel Pastre Big Band, Pasquale Grasso trio…
In 2018 the ensemble « The Greenwich Session » releases its first album « Invitation au Voyage » (Camille Production) with a repertoire of original compositions and with an unique orchestration: french horn, english horn, basset horn and bass clarinet mets trumpets, saxophones, double bass and drums.
In April 2019, Luigi Grasso joined the prestigious NDR Big Band in Germany. An opportunity that rewards a career that has seen him establish himself as one of the most prominent musicians in the current jazz scene, and constitutes an artistic event for the saxophonist, selected among more than 150 candidates.
In 2020, the saxophonist is preparing a new trio album with Géraud Portal (double bass) and Keith Balla (drums) whose first recording took place on July 19 live at the Duc des Lombards (Paris).  On this new project, Luigi Grasso further explores the possibilities of the saxophone by bringing his talent and creativity on the baritone & soprano saxophone, as well as on the bass clarinet.
Retour en Haut