Recherche
João Pedro Santos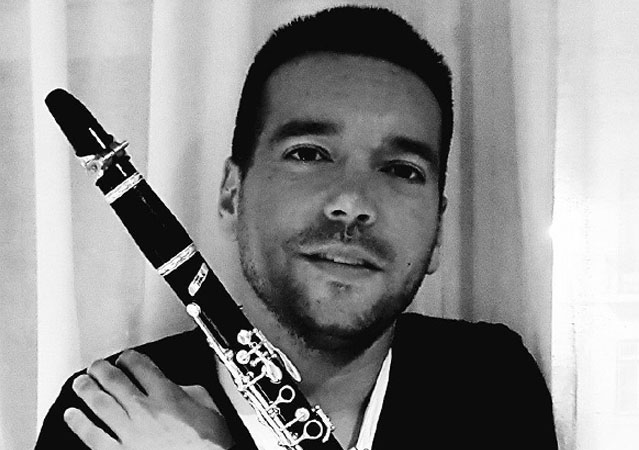 Soloist and Professor of Clarinet at the Lisbon National Conservatory of Music and Santa Cecília Music Academy
João graduated at Escola Superior de Música e Artes do Espetáculo in Porto with professor António Saiote. During his bachelor's degree he was distinguished by IPP. In 2012 João completed the Master`s Degree at the University of Évora in the class of Professor Etienne Lamaison. Later, João also did a Master's degree in Music Teaching at Escola Superior de Música in Lisbon.
During his career he won some of the most prestigious national competitions, such as 1st prize at Concurso Helena Sá e Costa (Porto, 2003) and Young Musicians Award (Prémio Jovens Músicos /Prémio Maestro Silva Pereira) in Lisbon, 2006.
João Pedro Santos has also been distinguished in International Competitions: finalist in the International Clarinet Association (Washington, 2003) and Valencia International Competition (2002). Later, João also won the Grand Prize at International competition of Interpretation in Lisbon (2005).
As an orchestral experience, João was part of Gulbenkian Orchestra between 2006 and 2010 and Iberoamericana Orchestra in 2008. He also collaborate with other orchestras, such as Southern Classical Orchestra (Algarve) and Portuguese Symphonic Orchestra (Lisbon).
He worked with conductors such as Daniel Baremboin, Jean Cober, Lawrence Foster, John Nelson, Simone Young, Pascal Rophér, Michel Corboz, Leonel Bringuier, Fabio Luisi, Jun Markl, Gustavo Dudamel and Kirill Petrenko.
As a Soloist, he performed in a concert of International Clarinet Association (Porto) and has appeared as a soloist with ESMAE Orchestra, ESML Orchestra, Banda Sinfónica Portuguesa, Gulbenkian Orchestra, Southern Classical Orchestra and Cascais Chamber Orchestra.
In 2009 João was invited to European Union of Music Competitions for Youth (EMCY), taking part in a tour in Germany. During this tour he performed in several concerts and recorded Deutsche Welle Radio.
Currently he also has carried out several projects related to Portuguese and Brazilian Music.
Instruments
RC Prestige

RC

Prestige 1193 – 1183

Retour en Haut