Search
Vincenzo ISAIA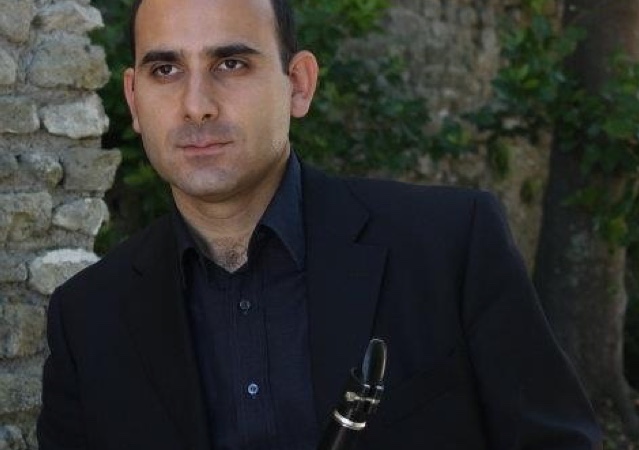 First Soloist Clarinet of the Italian Army Official Band in Rome
Vincenzo Isaia obtained the "Diploma di Magistero" for Clarinet in 1997 at the "V. Bellini" Institute, Catania and the Chamber music Diploma in 2004 at "S. Cecilia" in Rome, both with full honors, under the supervision of the maestros F. Lombardo, L. Cerroni and A. D'Amico. He also obtained a Second level Specialist Academic Diploma in Musical Disciplines at the "G. Braga" Institute in Teramo discussing a thesis entitled "Fraulein Klarinette nella musica da camera di Johannes Brahms". He followed a triennial course of High level specialization at "L. Perosi" Academy in Biella under the supervision of maestro Thomas Friedli and, together with the pianist Francesco Del Fra (Duo Résonance), he received the High level specialization in Chamber music diploma (Specialization course) at the "Scuola di Musica di Fiesole" Institute under the guidance of maestro Bruno Canino.
He won numerous awards participating in Soloist and Chamber Music competitions at national and international level, being always classified at the highest positions.
He followed specialization and performance courses in Italy and abroad together with famous clarinetists and musicians such as A. Pay, F. Ferranti ("Arts Academy" – Roma), C. Palermo ("Accademia Italiana del Flauto" – Roma), F. Meloni (Accademia "A. Rolla" – Pavia), K. Leister ("Amici della Musica" – Firenze), G. Garbarino ("4° Festival Nazionale del Clarinetto" – Agrigento), Enrico M. Baroni ("5° Festival Nazionale del Clarinetto" – Agrigento), S. Micheletti ("Accademia Romana di Musica" – Roma).
Being first Clarinet at the "Ostia Chamber Orchestra", coordinated by soloists of the "Orchestra dell'Accademia Nazionale di Santa Cecilia", he won, in 2000, all the available positions for Clarinetist published by the Ministry of Defence in the "1° Concorso per Orchestrali presso la Banda Musicale dell'Esercito Italiano" competition. Working as a clarinetist for the Italian Army (Esercito Italiano) he had the chance to cooperate with the maestro Fulvio Creux for more than a decade.
He is member of the:
CLARINOPERA&NSEMBLE: an Orchestra of Clarinets coordinated by maestro Calogero Palermo, conductor and soloist;
DUO RÉSONANCE: clarinet and piano duo with Francesco Del Fra;
Clarinet and accordion duo with Massimiliano Pitocco;
FIGARO: quintet of wind instruments;
Trio with cellist Francesco Mariozzi and pianist Francesco Del Fra;
RÉSONANCE IN TRIO with Soprano Alessandra Càpici and pianist Francesco Del Fra.
Among the national and international Institutions which hosted Vincenzo Isaia, there are:
Musikfrühling 2013 – Fünftes Internationales Kammermusikfestival, Böblinger;
Aula Magna at "La Sapienza" Rome University;
"Roma Tre" University;
"Mirarte" – Auditorium Vallisa, Bari;
"Museo Nazionale di Castel S. Angelo", Rome;
"Università degli Studi della Tuscia", Viterbo;
Vatican City.
He is part of a long and productive artistic partnership with the Italian composer Angelo Biancamano, who wrote "Résonance" (2013) for clarinet and piano, expressly dedicated to the homonymous duo and the piece ""Al di là del Mare" (2015) for clarinet and accordion played as a premiere with maestro Massimiliano Pitocco.
In addition to his career as a performer, he is also a clarinet and chamber music instructor and he is constantly invited to be part of juries in important musical competitions and nominated as external committee member for the exams at the Italian Conservatories.
He recently attended the seminar on "Tecnica di introduzione all'ascolto" held by maestro Rattalino, in which the theme of the communication with the public in concert rooms has been tackled. Vincenzo Isaia is also Endorser of the D'Addario-Bode brand and his profile is included in the Buffet-Crampon official website being an artist playing the RC Prestige model.
During September 2016, he has been appointed as First Soloist Clarinet of the Italian Army Official Band in Rome.
"Vincenzo è artista che decolla …! Ai prossimi «voli pindarici»!" (G. Garbarino – 2006).
Instruments
RC Prestige

Retour en Haut