Search
Vincent Tizon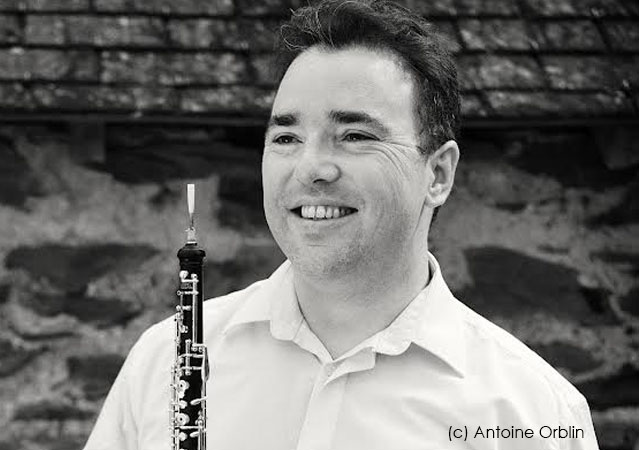 Hautbois solo de l'Orchestre de Cannes & professeur au conservatoire de Cannes
Vincent Tizon, fils et petit-fils de hautboïste, est né au Mans en 1979. Après avoir étudié notamment avec René Guillamot, Philippe Grauvogel, Daniel Arrignon et Jean-Claude Jaboulay, il intègre la classe de David Walter, Jacques Tys et Maurice Bourgue au Conservatoire National Supérieur de Musique de Paris, où il étudie également le hautbois baroque avec Marcel Ponseele.
Durant cette période, il remporte le prix spécial « Tony Aubin », gagne le concours international « Jean Françaix » ainsi qu'un prix au concours international de Haverhill (GB), et participe à « l'International Orchestra Institute Attergau », où il étudie avec Michael Werba et Harald Hörth, membres de l'Orchestre Philharmonique de Vienne.
Il conclut ses études en 2005 en recevant le Diplôme de Formation Supérieure du CNSMDP avec mention très-bien à l'unanimité au récital instrumental, ainsi que son prix de musique de chambre.
Il se produit au sein de prestigieuses phalanges orchestrales comme le Royal Scottish National Orchestra, l'Orchestre de Paris, le BBC Symphony Orchestra, l'Orchestre National de France, l'Orchestre Philharmonique de Rotterdam, l'Ensemble Intercontemporain, le City of London Sinfonia, le Royal Philharmonic Orchestra, l'Orchestre Philharmonique de Radio-France, the RTÉ National Symphony Orchestra, the RTÉ Concert Orchestra, l'Orchestre Philharmonique de Monte-Carlo, le Korean Chamber Orchestra, The John Wilson Orchestra, la Camerata de Genève, etc. sous la direction de chefs tels que Kurt Masur, Christoph Eschenbach, Alain Altinoglu, Pierre Boulez, Emmanuel Krivine, Riccardo Muti, Yakov Kreizberg, Trevor Pinnock, Jean-Claude Malgoire, Esa-Pekka Salonen, et participe à des enregistrements pour Naxos et Warner Classics ainsi qu'à de grands festivals (Edinburgh, Salzburg, BBC Proms, Seoul International Music Festival, Graffenegg).
Il intègre l'Orchestre de Cannes au poste de hautbois solo en 2008, puis est nommé professeur au conservatoire de Cannes en 2012.
Il se produit en soliste dans les concertos du répertoire (Mozart, Marcello, Richard Strauss, etc.) et en musique de chambre ou en récital à Cannes, Gand, Londres, Gdansk, Brasov, Séoul et Paris. Il donne des masterclasses en France, en Roumanie et en Corée.
Vincent Tizon choisit son hautbois Légende dès janvier 2021 pour ses exceptionnelles qualités d'homogénéité et de confort de jeu.
Instruments
Légende

Retour en Haut