Search
Stephanie Peterson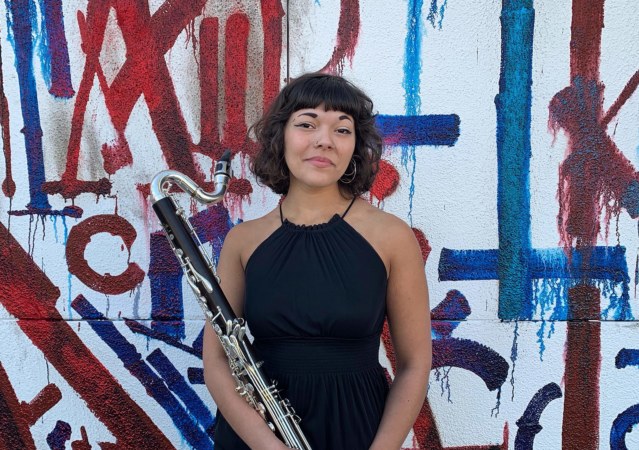 Four Play Clarinet Ensemble
Stephanie Peterson is a clarinet and bass clarinetist from Minneapolis, MN. She is a 2017 graduate of Gustavus Adolphus College in Saint Peter, MN, with a degree in music performance. In addition to studying with Minnesota Opera Orchestra clarinetists Karrin Meffert-Nelson and Nina Olsen, she has also performed in masterclasses with LA Philharmonic associate principal clarinetist Burt Hara (both before and after his departure from the Minnesota Orchestra), CSO bass clarinetist Lawrie Bloom, and bass clarinetist of new music ensemble Zeitgeist, Pat O'Keefe.
During her time at Gustavus, Peterson performed as principal clarinetist and principal bass clarinetist with the Gustavus Symphony Orchestra, Gustavus Wind Orchestra, and Gustavus Wind Symphony, and several chamber ensembles. She studied improvisation and performed in jazz combo groups within the emerging jazz program. She has performed on stages across the Midwest and East Coast, as well as throughout Eastern Europe. In 2017, she toured New England with the Gustavus Wind Orchestra as a concerto soloist, performing Evan Ziporyn's "Drill." She was selected to perform as a soloist in an audition-based honor's recital in 2017, performing Aaron Copland's Concerto for Clarinet. Other substantial solo works she has
performed include David Lang's "Press Release," Steve Reich's "New York Counterpoint," Eric Dolphy's "God
Bless the Child," and Othmar Schoeck's "Sonata," among others.
She is currently second clarinet/bass clarinetist for the Mankato Symphony Orchestra and assistant manager/print specialist at Schmitt Music in Minnetonka. She is bass clarinetist for LA-based clarinet quartet Four Play Clarinet, and is also a solo YouTube content creator, performing bass clarinet arrangements of popular hip-hop/R&B songs on her channel BarsClarinet. Stephanie plays a Buffet prestige bass clarinet with a Walter Grabner CXZ_LB mouthpiece and Vandoren V21 3.5 reeds.
Instruments
Prestige 1193 – 1183

Retour en Haut