Search
Sang Yoon Kim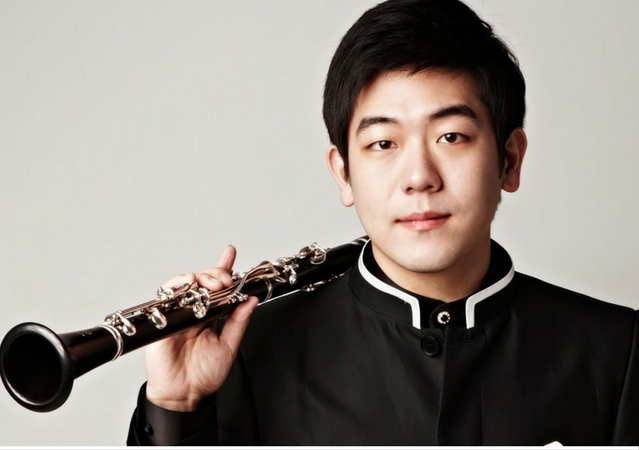 International soloist
South Korean clarinetist Sang Yoon Kim (1987) is the first prize winner of the 67th Prague Spring International Music Competition 2015, including the Czech Music Foundation Award for the best performance of commissioned piece by Ales Pavlorek. He has made his debut at the Prague Spring International Festival 2016 as a soloist with BBC Symphony Orchestra under the baton of their Music Director, Sakari Oramo. Moreover, he is a laureate of the International clarinet competition in Ghent, first prize at the UNISA International Flute and Clarinet Competition in 2014, and he also took away the top prize from the famous Jacques Lancelot International Clarinet Competition in 2012. As a passionate orchestra player, he has played as the guest principal clarinet of The Cleveland Orchestra from July to December 2016 including the Europe tour, with Franz-Welser Most, Stephane Deneve, Jakub Hrusa, Jaap Van Zweden and many others.
Kim performs frequently as a soloist; he has appeared with the Brussels Philharmonic Orchestra, Orchestre Opera de Rouen Haute-Normandie, Auburn Symphony Orchestra, Kwazulu natal symphony Orchestra, he toured Germany with the Pro Artibus Orchestra, and he also joined the Paris Conservatoire Orchestra during their Spanish tour headed by conductor Lionel Bringuier. Kim is well respected in his native country as well, where he regularly performs in concert with the important South Korean orchestras – the Prime Philharmonic, Seongnam Philharmonic, Mokpo Philharmonic and Gwangju Philharmonic. When the Deutsche Kammerorchester Berlin traveled on tour to South Korea, Kim appeared with them as a soloist at four concerts.
Kim made his debut with the Colburn Orchestra at the Walt Disney Concert Hall in Los Angeles in 2013. The orchestra was conducted by the Los Angeles Philharmonic Orchestra's fellow conductor Dietrich Paredes and the press raved about the performance given by the young clarinetist: "His strikingly mature artistry, his poised security of technique and expression were a marvel, From his instrument were drawn silken lines of sound, suffused with a dewy poignancy, and, in the finale, manic squawks and yawps."
Sang Yoon Kim is also a sought-after chamber musician, working with leading international artists, among them Swedish clarinetist Martin Frost, the celebrated French string quartet Quatuor Ebene, and pianists Jean-Yves Thibaudet and Robert Levin.
The graduate of the Conservatoire national superieur de musique et de danse in Paris, where he was accepted as the first Korean clarinetist in the school's history. He studied there in the years 2005-2010 with distinguished professors Michel Arrignon and Pascal Moragues. His tuition in Paris was preceded by three years with Florent Heau at the Conservatoire a Rayonnement Regional de Rueil-Malmaison. After Paris he went on to study in Los Angeles at the Colburn Conservatory of Music, gaining an artist diploma under Yehuda Gilad in 2014.
Instruments
Tosca

Retour en Haut