Search
 Ralph Emmanuel Lim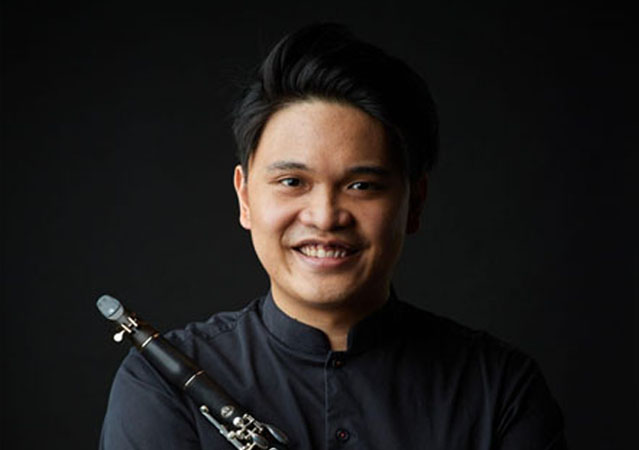 Co-principal Clarinetist of Resound Collective, Singapore's Professional Chamber Orchestra
"Receiving the loudest cheers was clarinettist Ralph Emmanuel Lim who was in his element for Artie Shaw's Clarinet Concerto" -The Straits Times (1st January 2018)
 Ralph Emmanuel Lim is the co-principal of Singapore's first professional chamber orchestra Resound Collective and co-founder of the award-winning clarinet ensemble CLARQuinet.
Ralph studied under the Assistant Principal Bass Clarinetist of the Singapore Symphony Orchestra, Tang Xiao Ping, while studying at the Nanyang Academy of Fine Arts in Singapore. He was then under Timothy Lines and Janet Hilton while studying at the Royal College of Music in London.
He frequently appears as a soloist with the Philharmonic Winds, Philharmonic Youth Winds and the Singapore National Youth Orchestra. In early 2021, Ralph was regarded as the highlight of the evening when he performed the Brahms Clarinet Quintet with Concordia Quartet:
"Lim's mellow and long-breathed clarinet part… proved the high point of the evening." -The Straits Times (18th January 2021)
 With numerous awards and accolades under his belt, Ralph has also won the 2017 and 2015 Singapore Clarinet Festival with CLARQuinet, and the second prize at the 2015 Prof. Dichler International Competition in Vienna. Additionally, he was awarded a Distinction in the Royal College of Music Woodwind Concerto Competition in London.
Ralph currently plays on a 2021 limited edition Légende in Mopane by Buffet Crampon, 74/85.
Instruments
Festival

Légende in Mopane

Retour en Haut