Search
Mitchell Estrin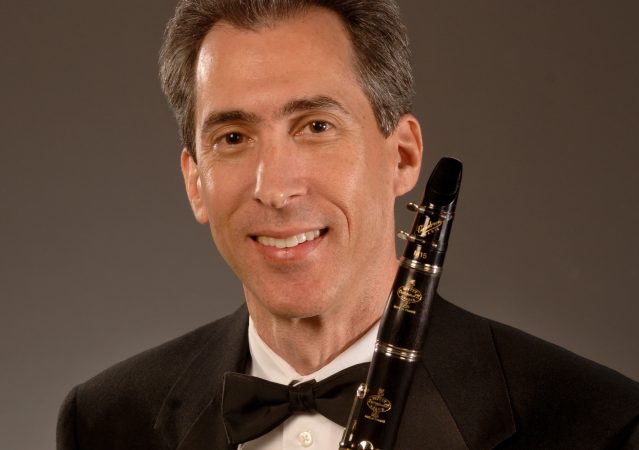 Professor of Clarinet at the University of Florida and Music Director and Conductor of the University of Florida Clarinet Ensemble
Mitchell Estrin is Professor of Clarinet at the University of Florida and Music Director and Conductor of the University of Florida Clarinet Ensemble. He also serves as the Artistic Director of the annual Vandoren Clarinet Ensemble Festival and was founder of the Buffet Crampon USA Summer Clarinet Academy. In 2016, Prof. Estrin was elected President-Elect of the International Clarinet Association.
Mitchell Estrin studied clarinet with Stanley Drucker at The Juilliard School where he received his Bachelors and Masters degrees and was a Naumburg Scholar. He had a 25-year association with the New York Philharmonic, where he performed in more than 2,000 concerts as principal, second, and E-flat clarinetist under such distinguished conductors as Alan Gilbert, Lorin Maazel, Kurt Masur, Zubin Mehta, Leonard Bernstein, Pierre Boulez, Erich Leinsdorf, Sir Georg Solti, Claudio Abbado, Klaus Tennstedt, Andre Previn, and Leonard Slatkin. He accompanied the orchestra on 19 international tours, made dozens of recordings with the orchestra, and on numerous occasions performed with the Philharmonic on the PBS award winning series, Live From Lincoln Center.
As an international concert artist, Mitchell Estrin has performed in 37 countries on 4 continents. During a visit to the Czech Republic, he performed and recorded with the Janacek Philharmonic in the world premiere of The Shadows of October for clarinet and orchestra by Michael Whalen. The work was recorded on the Arabesque label and the CD is being aired on classical radio stations internationally. The recording was reviewed in The Clarinet, which stated: "This beautiful and lushly scored tonal piece…. is performed by clarinetist Mitchell Estrin…. He plays beautifully with a lovely colored tone."
An active chamber musician, he has performed with The Chamber Music Society of Lincoln Center, New Arts Trio, been an Artist-in-Residence at the Newport Music Festival, and was a founding member of the Amadeus Ensemble. The ensemble recorded a critically acclaimed series of wind chamber music for Musical Heritage Society. Other chamber music projects include recordings of wind serenades by Dvorak and Mozart with the American Chamber Winds, and Monochrome III by Peter Schickele under the composer's direction.
Prof. Estrin has presented recitals, masterclasses, workshops, and seminars at educational conferences and institutions throughout the United States, including the Eastman School of Music, Peabody Conservatory, Florida State University, University of Maryland, University of Alabama, Texas A&M University, New York State School Music Association, Connecticut School Music Association, and Florida Music Educators Association. He has performed in recital with clarinetists Stanley Drucker, Karl Leister, and Mark Nuccio.
Widely acclaimed as a conductor and proponent of the clarinet choir, Prof. Estrin has served as director of the International Clarinet Association ClarinetFest College, Festival, and Professors Clarinet Choirs, Oklahoma Clarinet Symposium Clarinet Choir, Texas Clarinet Colloquium Clarinet Choir, and United States Navy Clarinet Choir. He has conducted the University of Florida Clarinet Ensemble throughout the United States and Europe, including three feature recitals at the International Clarinet Association ClarinetFest. The ensemble has produced three full-length CD's for Mark Masters, Clarinet Choir Classics (2012), Clarinet Thunder (2009), and Wind in the Reeds (2006). Each of these recordings was selected for the Grammy Nomination eligibility list. The ensemble's fourth CD, Christmas Clarinets, is scheduled for released in December 2016. Prof. Estrin is a published author on the history, development, and logistics of the clarinet choir and his critical edition of the Weber Concertino for Clarinet, opus 26 is published by Jeanné.
As a studio musician, Prof. Estrin recorded dozens of motion picture soundtracks for Columbia Pictures, Walt Disney Pictures, Paramount Pictures, MGM, 20th Century Fox, United Artists, and Warner Brothers on feature films including Aladdin, The Alamo, Intolerable Cruelty, The Score, You've Got Mail, Primary Colors, Fargo, Batman Forever, Interview With a Vampire, Home Alone 2, Pocahontas, Doc Hollywood, Regarding Henry, Beauty and the Beast, The Untouchables, Reds, and Dressed to Kill. His television credits include recordings for ABC, NBC, CBS, CNN, HBO, TBS, and ESPN. Prof. Estrin was principal clarinetist for the NBC 75th Anniversary Special; broadcast from the famed NBC Studio 8H in New York City. He has appeared on The Late Show with David Letterman, The Phil Donahue Show, the television series Nurse, and in Kramer vs. Kramer, the 1980 Academy Award Winner for Best Picture. His clarinet playing has also been heard on hundreds of television and radio commercials. The National Academy of Recording Arts and Sciences has recognized him for his outstanding performances as a recording artist.
Mitchell Estrin is a Buffet Crampon Clarinet Artist and performs exclusively on the Buffet R13 clarinet. As a Vandoren Performing Artist, he endorses and performs exclusively on Vandoren reeds and mouthpieces. Prof. Estrin's educational articles are published regularly in the Vandoren Wave and his biography is listed in Who's Who in American Music and Who's Who in International Music.
Instruments
R13

Retour en Haut