Search
Mathias Kjøller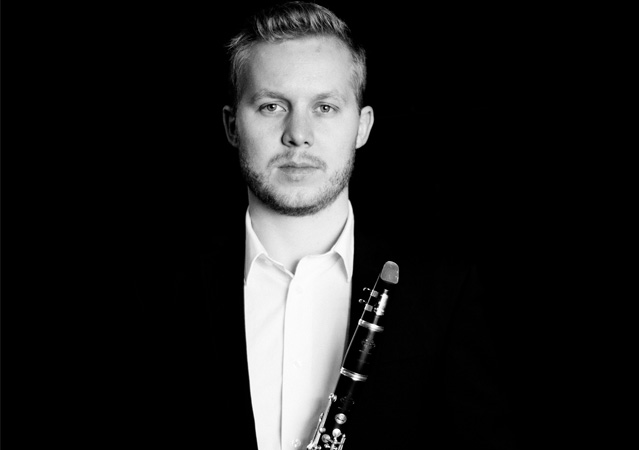 International solist
Mathias Kjøller, born in 1985, began playing the clarinet at age 10. In 2004 he entered the Royal Academy of Music in Aarhus, studying with John Kruse (Royal Danish Opera), and in 2007 – at age 21 -, he was appointed principal clarinetist in Aarhus Symphony Orchestra.
After finishing studies in Aarhus, Mathias entered the Royal Academy of Music in Copenhagen, studying with Lee Morgan (Royal Danish Opera) where he won the soloist competition and played the Nielsen Concerto with conductor Michael Schønwandt.
He also regularly travels to study with the internationally renowned clarinet professor, Yehuda Gilad in Los Angeles.
In 2011, he was appointed associate principal clarinet in the Danish Radio Symphony Orchestra, but, after careful consideration he decided to go back to Aarhus Symphony Orchestra in 2013. Besides his positions in Aarhus and Copenhagen, he also plays with the Swedish Radio Symphony Orchestra, Malmö Symphony Orchestra, Mahler Chamber Orchestra and Bergen Philharmonic Orchestra.
In 2013, he was awarded 2nd prize, Odense Symphony Orchestra's prize and the prize for the best interpretation of the Carl Nielsen clarinet concerto in the International Carl Nielsen Clarinet Competition.
As a soloist he has played with the Copenhagen Philharmonic Orchestra, Odense Symphony Orchestra and several times with the Aarhus Symphony Orchestra – one of them at the official grand opening of the orchestra's Symphonic Hall in Aarhus Music House in 2007.
Mathias is a very active chamber musician working regularly with musicians like Simon Crawford-Philips, The Danish String Quartet and Marianna Shirinyan at festivals like West Cork Chamber Music Festival, DSQ Festival and Bergen International Festival.
Besides his studies with Kruse, Morgan and Gilad, Mathias has studied with Ricardo Morales, Wenzel Fuchs, Hans Christian Bræin, Philippe Berrod, Karl Leister and Martin Fröst.
He has received received numerous awards and scholarships, among others the Sonning Scholarship for musicians, the Victor Borge Prize and the Danish Arts Council's The Young Elite Scholarship.
Mathias's debut album was released in 2018 on Orchid Classics, featuring music by Schumann, Reinecke, Debussy, Berg and Corigliano.
Retour en Haut