Search
Masaichi Takeuchi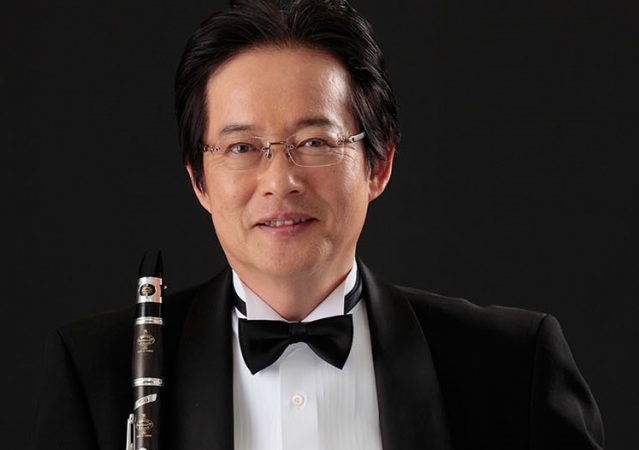 Professor at Nagoya University of Arts, Former Clarinetist of the Central Aichi Symphony Orchestra, President of the Nagoya Clarinet Association
Masaichi Takeuchi received his Bachelor of Arts degree from Nagoya University of Arts' School of Music. He studied clarinet with Takafumi Komatsu, Kiyoichi Yamada, and Kunio Chiba. After finishing his undergraduate studies, he studied at the Superior Course of Koninklijk Vlaams Conservatorium Antwerpen in Belgium, where he studied clarinet with Walter Boeykens and free improvisation with Fred Van Hove.
Appearing as a soloist with Central Aichi Symphony Orchestra, Masan Philharmonic Orchestra and the Chernigov Philharmony Orchestra of Ukraine, he has performed concertos in Japan, South Korea and Ukraine. In 2007, he recorded a CD — "Feelingly" (XQCM-1201) — with Takayuki Inoue, former member of The Spiders, and Yumiko Matsunaga, pianist.
An active band instructor/conductor, Mr Takeuchi coaches and conducts numerous concert bands, including Nagoya City Firefighting Band. As a director of Nagoya University of Arts Wind Orchestra, he has toured several domestic cities as well as many foreign countries, including the United States of America, Australia, South Korea, Belgium, Ireland, and Austria. In 2002 he was invited to a music festival in Hong Kong where he sat on the jury and presented a workshop. He also sat on a jury at Yokohama International Music Competition and Osaka International Music Competition. In addition, more than 10 CDs, performed by Nagoya University of Arts Wind Orchestra and conducted by Mr. Takeuchi, have been released through De Haske.
Currently, Mr. Takeuchi is a professor at Nagoya University of the Arts' School of Music, the chair of the board of directors of Nagoya Clarinet Association, Musical director of the Takayama Wind Orchestra, a member of Okazaki Musicians' Association, the Association des Amis de la Musique Francaise de Nagoya, and the Japan Academy of Chamber Music, and Buffet Crampon Japan's special commissioned instructor.
Instruments
Tosca

Retour en Haut