Search
Manuel Hernández Aguilar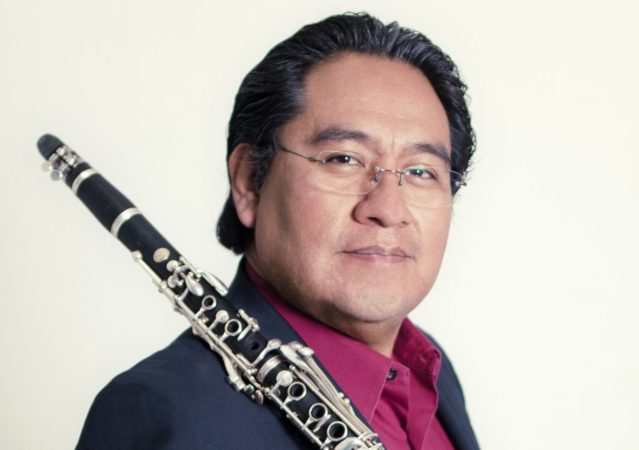 Princicpal Clarinet - Orquesta Filarmónica de la UNAM
Born in Oaxaca state, Mexican clarinetist Manuel Hernandez is recognized both by audiences, colleagues and critics as one of the most prominent clarinet players in Mexico. He joined the OFUNAM (Mexico's National University Philharmonic Orchestra) in 2004 as Principal Clarinet.
Hernandez is also a member with concertino status of Concertistas de Bellas Artes (a State-founded mixed group of chamber soloists), a full-time professor at the National University of Mexico (UNAM) and Universidad Panamericana's School of Fine Arts, and plays regularly as guest principal clarinet with the Mineria Symphony Orchestra.
He has played as soloist with orchestras in Mexico, Argentina and Guatemala and had gained special recognition for his performances of the Corigliano, Francaix (Mexican premiere), Copland and Nielsen concertos, as well as the Mexican premiere of Pierre Boulez' "Dialogue de l'ombre double" for clarinet and electronics, the Mexican premiere of Sofia Gubaidulina's double concerto "Wuarum?" in Mexico and during the OFUNAM's 2014 European tour, and the World premiere of David Hernández Ramos "Cromatismos Celestes – Sous les Cieux" For clarinet and orchestra with The National Symphony Orchestra.
He plays and participates as clinician often in the major concert venues and festivals across Mexico as well as in Latin America, China, Europe, North Africa and the United States, such as Festival Internacional Cervantino, Coloquio Musical de Zacatecas, Festival Ortiz Tirado, Foro Internacional de Música Nueva "Manuel Enríquez", Festival Culturel International de Musique Symphonique in Argel, Festival Internacional de Música Credomatic in Costa Rica, The Meet in Beijing, Academia Iberoamericana de Clarinete in Castelo di Paiva, International Clarinet Festival's ClarinetFest, Latinamerican Clarinet Congress in Peru and Brazil, International Clarinet Connection in Boston, Festival International Universitarie in Belfort, France, etc.
As chamber musician, he has collaborated with partners like pianists Jorge Federico Osorio and Alejandro Barrañón, violinist Manuel Ramos and the Latinoamericano, Arcano, Carlos Chavez and Mexico City quartets, among others. Before joining OFUNAM, Hernandez served as assistant at the Teatro del Palacio de Bellas Artes' orchestra, playing for singers like Placido Domingo, Rolando Villazón, Ramón Vargas, Francisco Araiza and Anna Netrebko. He can be heard in an extensive discography that includes: "The complete chamber music of Antonio Rosado", "Chamber music by Roberto Peña Quezada", "Para vientos" with Cameristas de México, "En una noche femenina" wth Nadia Borsilova, "Contemporary marimba II" with Javier Nandayapa or Federico Ibarra's chamber opera "El pequeño príncipe".
His principal teachers include Philippe Cuper and Luis Humberto Ramos; he has graduated with honors both at the Versailles Conservatory and the National University of Mexico (UNAM). He has been the recipient of both artistic and educational grants by France and Mexico agencies and received major prizes in competitions in Argentina, France, Mexico and the States.
As a Buffet-Crampon Artist, Mr. Hernández performs on the Tosca and Prestige R13 clarinets. He is also a D'Addario Performing Artist and plays Reserve, Reserve Classic, Reserve Evolution and Grand Concert reeds.
Retour en Haut