Search
Kip Franklin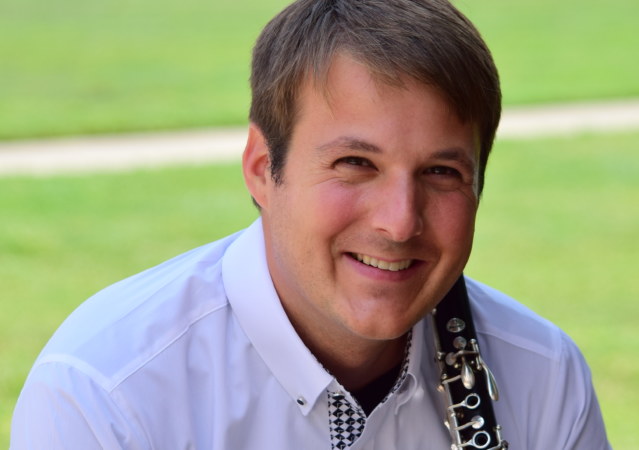 Assistant Professor of Clarinet - University of South Alabama
Kip Franklin currently serves as Assistant Professor of Music at the University of South Alabama where he teaches clarinet, music theory, and conducts the USA Clarinet Ensemble. Dr. Franklin has performed as a soloist, chamber musician, and orchestral player throughout the United States and abroad. As a member of the USA Faculty Wind Trio, he released the album Perpetuum Mobile in 2016. An advocate of new music, Dr. Franklin was a part of the consortium for David Maslanka's Eternal Garden: Four Songs for Clarinet and Piano (2009) and his Concerto for Clarinet and Wind Ensemble (2014), and has co-commissioned significant works from other composers including David Biedenbender and Philip Wharton. He was a featured performer at the International Clarinet Association ClarinetFest Conventions Ostend, Belgium; Orlando, Florida; and Baton Rouge, Louisiana, and has presented at the Alabama Music Educators Association and the Midwest Clinic. Dr. Franklin's research interests are centered on commissioning and recording new pieces in the clarinet canon. His debut solo CD, Crossroads: Twenty-First Century Music for Clarinet, was released in 2018. Prior to USA, Dr. Franklin served on the faculty of Saginaw Valley State University.
In addition to performing and teaching, Dr. Franklin keeps an active schedule as a clinician and adjudicator. As a guest clinician, he has presented master classes at numerous high schools and universities across the country and was an adjudicator for the Michigan School Band and Orchestra Association. He regularly writes articles for The Clarinet, Buzzreed Blog, and is an audio reviewer for the ICA. Other international experience includes studies and performances at the Centro Studi Carlo della Giacoma (Italy), the Vianden Music Festival (Luxembourg), and the Institut Français des Alps (France).
Dr. Franklin is a member of the International Clarinet Association, The College Music Society, and Pi Kappa Lambda. His clarinet teachers include Theodore Oien, Caroline Hartig, Kennen White, and Guy Yehuda. Dr. Franklin also studied music theory and composition with Gordon
Sly, José-Luis Maurtua, and David Gillingham.
Instruments
Festival

Retour en Haut