Search
Hernan Garreffa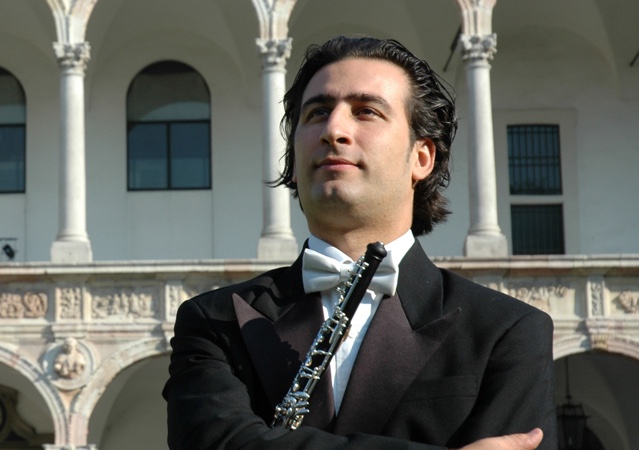 Principal Oboe "Real Teatro San Carlo" in Neaples
Hernan Diego Garreffa, Argentine, was born in Santa Fe on March 12, 1973.
He began oboe studies with his father, famous oboist and soloist of Argentina.
He completed his studies of flute recorder (1989) and oboe (1991) in the Liceo Municipal in Santa Fe.
In 2001 he completed his studies of oboe in the Santa Fe Music University with the first prize of all woodwinds.
He made special studies with many renowned oboists as Joel Timm (Los Angeles, Faculty of University of Southern California), Elaine Douvas and John Ferrillo (Metropolitan Opera, New York), Philippe Magnan (Quebec Symphony Orchestra), Alex Klein (Chicago Philarmonic), Laszlo Hadady Ensemble Intercontemporain of Paris, France) Hansjorg Schellenberger (Berliner Philarmoniker).
Since 1992 was oboe professor at the School Superior of Music Dance and Dramatic Art of the University of Entre Rios and has continued in that position untill 2002.
Since 1992 to 2002 was Principal Oboist of Santa Fe Symphony Orchestra.
Since 1997 to 2002 was Principal Oboist of Entre Rios Symphony Orchestra.
During 2000 he was principal oboist of Buenos Aires Philarmonic Orchestra of the Colon Theater.
In 2001, he was chosen to be a Principal Oboe Professor at the Superior School of Music at Rosario University.
He has been Principal oboist of the Orchestra Sinfonica di Milano "Giuseppe Verdi" conducted by Riccardo Chailly since 2002 to 2008.
Since 2005 he appeared regularly as principal oboist of the Orchestra Filarmonica del Teatro alla Scala, Archi della Scala and Solisti della Scala.
From 2009 to 2010 he played as acting Principal oboe at the "Carlo Felice" Opera House in Genova, Italy.
From 2010 to 2015 he was Principal oboe of the "G. Verdi" Theater in Salerno conducted by Daniel Oren.
From 2016 is Principal oboe of Reale Teatro San Carlo di Napoli, Italy.
He also appeared as soloist in Argentina, Mexico and Italy, and chamber music recitals in Paris, Milano, Budapest, Los Angeles, Quebec, etc.
He plays a Buffet Crampon Green Line Oboe.
He has been awarded prizes in the following competitions:
-1st Prize Mozarteum Competition Santa Fe Filial Salzburg. (1990)
-1st Prize Franz Liszt Competition Woodwinds (1994)
-1st Prize "Best Artistic Quality" (1999)
-Special Mention International Chamber Music Competition in Arles, France (1999)
Instruments
Prestige

Retour en Haut