Search
Eric Speller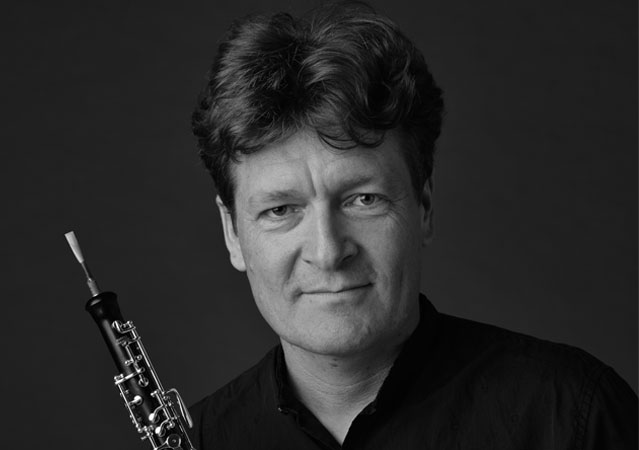 Oboe professor in Conservatoire Royal de Bruxelles and Ecole Normale Cortot de Paris
French oboe player, Eric Speller was unanimously awarded a "premier prix" from Lyon Superior Conservatoire in 1994. He was then admitted to the Conservatoire in Gevena, where he studied with Maurice Bourgue and he was awarded the Prix de perfectionnement in 1995.
The same year, he joined the Monte Carlo Philharmonic Orchestra as co-soloist for 3 years. Since 1997 he's solo oboist from the Royal Flanders Philharmonic Orchestra in antwerpen.
Eric Speller is a winner of the Natexis Foundation Award. In 1996, he's prizewinner in the International Oboe Competition in Prague and in 1997, he won third prize in International oboe competition in Tokyo.
He has recorded Canteloube's Chants d'Auvergne with the Auvergne Chamber Orchestra. He' s recording regularly for radio (France Musiques, Radio 3 Belgique) and television (Mezzo and Arte). Eric is solo oboe from the "New Paris Wind Quintett". He is regularly invited to give masterclasses in France, Belgium, Swiss, Spain, Vietnam, Macau, Hong-kong, USA, japan…
In 2001–2002, he taught the oboe at the Royal Antwerp Conservatoire. From 2003 till 2010, he is professeur at l'Imep in Namur. In 2011, he became the oboe professor at the Royal Conservatorium of Bruxelles and since 2016 at the Ecole Normale de Musique de Paris. As a passionate musician, his repertoire ranges from the baroque era on authentic instruments to contemporary creations. He recently created and recorded "les fragments de belles heures) from Pierre Bartholomée (label Cypres) and collaborates regularly with the baroque orchestras Concert Spirituel (Hervé Niquet),  Concert d'Astrée (Emmanuelle Haim) and with the ensemble Amarillis with which he participated in several recordings (Charpentier, Haendel …)
His recordings for Ambroisie of pieces of oboe and piano by Schumann, of Benjamin Britten's complete oboe works, of Antal Dorati's oboe works and of Heinz Holliger's oboe sonata earned him excellent reviews in France and elsewhere, as well as several record awards. Critics have praised "his extremely attractive use of timbre, nuance and phrasing" (Diapason), "his exemplary reedings, true to style and with fine phrasing" (Le Monde de la Musique), "his infinitesimal nuances, his unlimited legato, the absolute purity of his response, the homogeneity and beauty of his tone" (Répertoire)…
His latest album is dedicated to the romantic oboe repertoire.
Eric Speller is Buffet Crampon's ambassador.
Instruments
Virtuose

Retour en Haut