Search
David Cook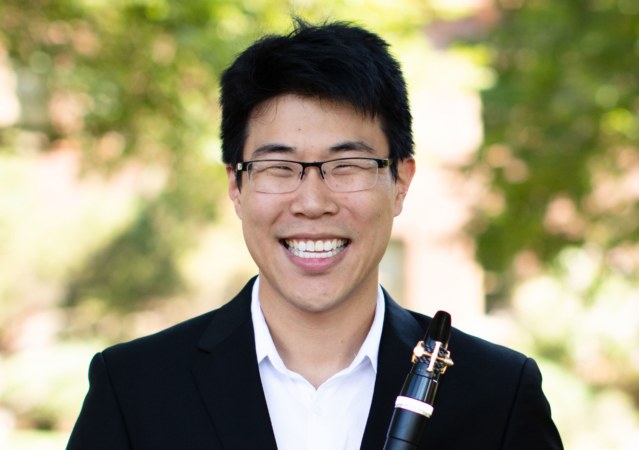 Assistant Professor of Clarinet - Millikin University
David Cook is Principal Clarinet of the Millikin-Decatur Symphony Orchestra and clarinetist for the Appian Duo (with Emily Grabinski, piano) and the Greyline Duo (with Alexandra Rodriguez, flute). Previously a member of the Wichita Symphony Orchestra, the Lawton Philharmonic Orchestra, the Lieurance Woodwind Quintet, and the wind quintet Fiati Five, David has also performed with the Champaign-Urbana Symphony Orchestra, Oklahoma City Philharmonic, the Norman Philharmonic, the Blue Lake Fine Arts Camp Festival Orchestra, and the Texas Music Festival Orchestra. As a chamber musician, David has performed at Chamber Music Campania, with the Brightmusic Chamber Ensemble, the From the Edge Chamber Music Series, and the Kemp Concert Series. An advocate for contemporary music, David has commissioned and premiered new works from composers such as David Maslanka, Pierre Jalbert, David Biedenbender, Whitney E. George, Cody W. Forrest, Cody Criswell, Garrett Gillingham, and Andy Francis.
David was a winner of the 2015 Oklahoma Community Orchestra Young Artist Competition, the 2010 Betty J. Hixon Saxophone/Clarinet Award, and the 2010 Dora Dawson Music Award. He also received honors in the University of Oklahoma Concerto Competition, the Cynthia Woods Mitchell Young Artist Competition, and the White Lake Chamber Music Festival Solo Competition. Past performances include the International Clarinet Association's ClarinetFest®, the College Music Society National Conference, the National Association of College Wind and Percussion Instructors Conference, the American Single Reed Summit, the Clarinet Colloquium at Texas A&M University-Commerce, the KNOB New Music Festival, and recitals across the United States and abroad. His writings and research have been published in The Clarinet, the NACWPI Journal, and The Instrumentalist.
David is currently an Assistant Professor of Clarinet at Millikin University, where he teaches applied clarinet, chamber music, clarinet methods and pedagogy, music theory, and aural skills. He was previously Instructor of Clarinet at Wichita State University and Instructor of Music Theory at the University of Oklahoma. He is also a member of the clarinet faculty at Blue Lake Fine Arts Camp and previously taught as Clarinet Mentor for the Detroit Symphony Civic Orchestra and Central Michigan University's Summer Music Camp.
David holds Bachelor of Music and Bachelor of Music Education degrees from Central Michigan University, Master of Music degrees in clarinet performance and chamber music from the University of Michigan, and the Doctor of Musical Arts degree in clarinet performance and the Master of Music degree in music theory from the University of Oklahoma. David's principal teachers include Suzanne Tirk, Chad Burrow, Theodore Oien, and Kennen White. For more information, please visit davidcookclarinet.com.
Instruments
Tosca 1195

RC Prestige

R13

Retour en Haut