Search
Claire Grellier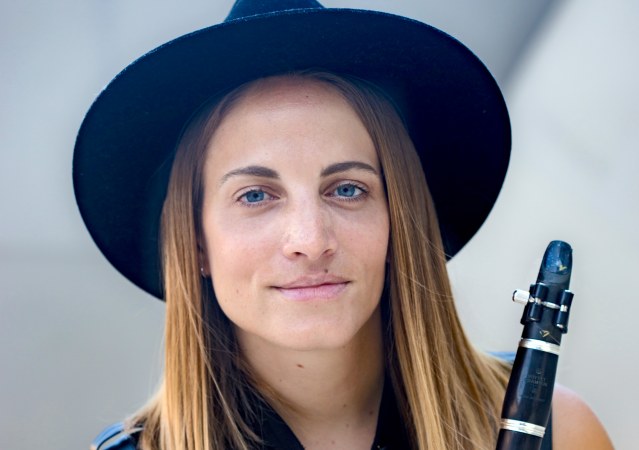 Four Play Clarinet Ensemble
Originally from Nice, France, Claire Grellier came to the United States in 2010 to complete a Bachelor of Music degree from the School of Music at Cal State University, Fullerton, where she subsequently earned her Master of Music degree as well, graduating with highest honors for both diplomas after studying under the tutelage of Hakan Rosengren. Prior to her studies in America, Claire studied in France at the Nice Conservatory where she graduated receiving her D.E.M. (French Diploma in Musical Performance) and at the Monaco Conservatory, her primary teachers being Michel Lethiec and Marie-B. Barrière-Bilote.
While in France, Claire played clarinet for the City of Nice Wind Ensemble and the City of Nice's Military Band, where served as the solo Eb clarinetist. She also has performed at the Nice Opera, both as a clarinetist and solo Eb clarinet. During her studies at Cal State Fullerton, Claire performed with major ensembles such as the Symphony Orchestra, and the Wind Symphony, with whom she toured China and served as principal clarinetist. In addition to ensemble performances, she has played for several masterclasses for renowned clarinetists such as Richie Hawley, Mark Nuccio, Burt Hara, Yehuda Gilad, Jim Kanter, Ben Lulich, Alexander Fiterstein, Sarah Elbaz, Boris Allakhverdyan, Patrick Messina and Nathan Williams. Claire is also the co/founder and member of a unique clarinet quartet based in Los Angeles, California called Four Play clarinet.
Claire is currently a D.M.A. student of Dr. Donaghue at the Frost School of Music at the University of Miami and the teaching assistant in clarinet. There, she teaches undergraduate students and she runs the clarinet choir. She is also part of the Shalala Music Outreach program at her university and leads weekly sectionals at Arthur & Polly Mays Conservatory of the Arts in Goulds, Florida and at South Miami Senior High school in Miami.
At Frost, Claire plays in the Henry Mancini Institute Orchestra, the Frost Symphony Orchestra, and the Frost Wind Ensemble. Claire plays a set of Buffet Tradition clarinets, a Vandoren BD5 13 mouthpiece, and Vandoren V12 reeds.
Retour en Haut