Search
Cheyenne Cruz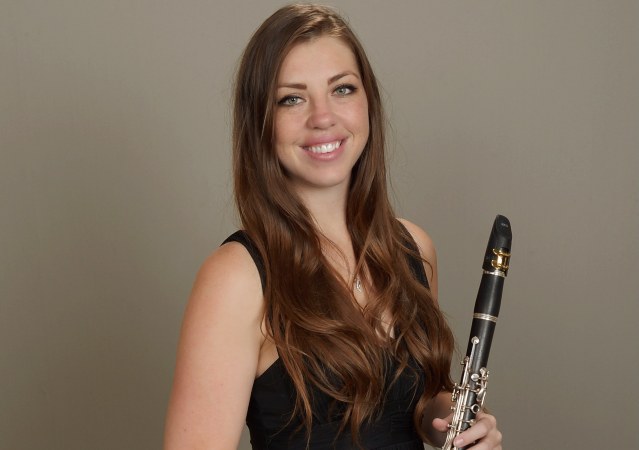 Lecturer of clarinet at the University of Texas at Arlington
Dr. Cheyenne Cruz joined the faculty at the University of Texas at Arlington in 2016 as Lecturer of Clarinet. Previously, she held a position as Adjunct Clarinet Instructor at Stephen F. Austin State University and was the Teaching Fellow in chamber music for the University of North Texas in 2015. In addition to her collegiate teaching, Cheyenne maintains a private clarinet studio in the DFW area including students from Hebron High School (winners of "Best Music" at BOA Grand Nationals in 2015) and Argyle High School (UIL 4A State Marching Band winner for 4 consecutive years). Cheyenne's high school students have been accepted into All-State bands and orchestras for both the TMEA and ATSSB organizations. Cheyenne completed her DMA in clarinet performance with a related field in music education at the University of North Texas in 2015. She also holds a Master's degree in clarinet performance from the Florida State University and Bachelor's degree in music education from McMurry University.
As a performer, Cheyenne has appeared with the Tallahassee Symphony Orchestra, the San Angelo Symphony, the Longview Symphony Orchestra, and the Dallas Wind Symphony. She is presently a member of the Lone Star Wind Orchestra, conducted by Eugene Corporon. Cheyenne has also been the long-term substitute 2nd clarinetist with the Texarkana Symphony Orchestra for the 2015-16 and 2016-17 seasons. An active chamber musician, Cheyenne's previous wind quintet, The Center Quintet, was invited to perform at both the Plowman and Fischoff chamber music competitions. Now Cheyenne is composing and arranging in addition to performing with her newest chamber music group, WoodWired, an electroacoustic duo with flutist Hannah Leffler. WoodWired has been actively performing original music for bass clarinet, flute, and electronics since 2015, and appeared at the National Flute Association convention in 2016.
In addition to her performing ventures, Cheyenne has been published in The Clarinet Magazine, the monthly journal issued by the International Clarinet Association, with an article entitled "A Pedagogical Guide to Playing Bass Clarinet in a Wind Ensemble." Prior, she completed an undergraduate thesis entitled "Mickey Mousing Squared: Postmodernism in Cartoon Music" from which she graduated with special honors in Music History. Her major clarinet teachers include Dr. Kimberly Cole Luevano and Dr. Frank Kowalsky.
Instruments
R13

Retour en Haut