Search
Andreas Hermanski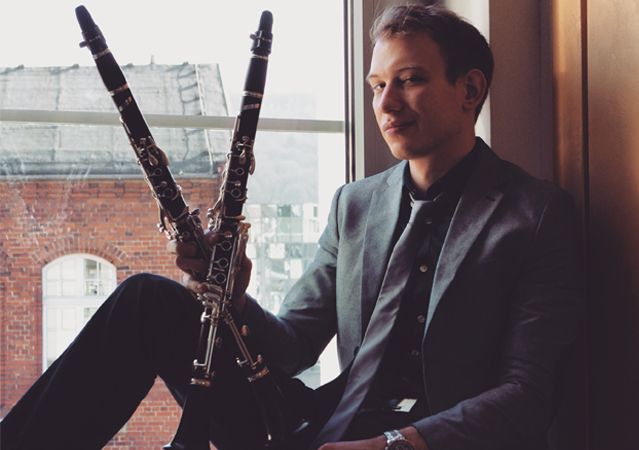 International soloist & Professor at the School of Music in Wuppertal, Burscheid and Warstein
« Andreas Hermanski mastered the concerto with fast fingers, fast tonguing while upholding  consistent beautiful sound – with all the non-stop cascades and extreme pitches an impressive performance. »
This describes the young clarinetist by the German newspaper Westfalenpost after the German premiere of the clarinet concerto "Concert Fantastique" by Rolf Martinsson in May 2018 with the orchestra of the Hfmt Cologne. He was the third person to perform this Concerto worldwide.
Andreas Hermanski has already gained a reputation name as a soloist performing under renowned conducers such as Julia Jones and Michael Falk. At the age of 17, he performed the clarinet concerto of Ignaz Pleyel with the orchestra of the city of Soest. From 2011 – 2014 Andreas Hermanski held the position as principal clarinetist in the chamber orchestra ""Ensemble Accordes", with which he performed the Mozart Clarinet Concerto several times. In 2019 he will perform the Mozart Clarinet Concerto with the Chamber Orchestra of the city of Lüdenscheid as Artist in Residence.
He received insights into modern "New" music in prominent Masterclasses in Montepulciano where he had the chance to work with Professors such as Prof. Schöllhorn giving world premieres to many works. As an avid chamber music musician, Hermanski worked with musicians from prestigious Quartets such as the Minguet and Casals Quartet. He is also a member of the "FuGa" Wind Quintet.
The same passion and expertise that drives Hermanski's performances also inspires his teaching activities. He is a much-sought instructor at the School of Music in Wuppertal, Burscheid and Warstein.
Andreas Hermanski's solo as well as chamber music concerts have already taken him to the USA with performances at the University of NYU in New York City, and the Rutgers University for New Jersey, as well as concerts in Italy and France.
Andreas Hermanski studied at the Hochschule für Musik und Tanz Cologne receiving his Bachelor of Music in Pedagogy studying with Prof. Wilfried Roth-Schmidt and his Bachelor of Music in Clarinet Performance studying with Nicolai Pfeffer. Hermanski is currently in the Masters program of the Hochschule für Musik und Tanz Cologne studying with Nicolai Pfeffer finishing in the summer of 2020.
Rounding off his wide-ranging activities radio broadcasts for Germany's public broadcaster Westdeutscher Rundfunk.
Instruments
Tosca

Retour en Haut