Suche
Severine Sierens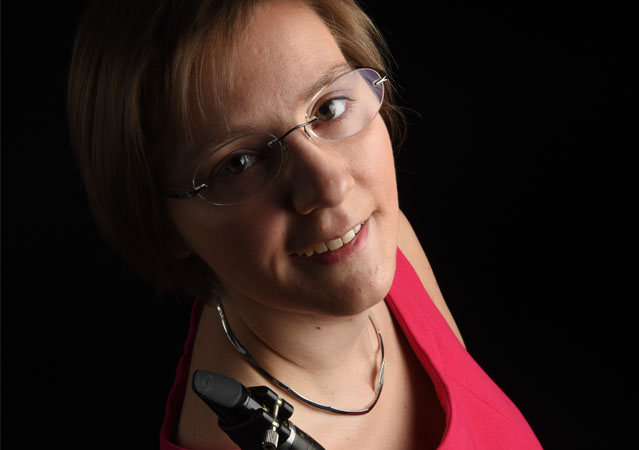 Teacher at the Academie voor muziek, woord en dans, in Ghent and Oudenaarde
Severine Sierens obtained her Master's degree in Arts at the Lemmens Institute at the class of Mr Eddy Vanoosthuyse in 2007. After she graduated she obtained a Master after Master degree in 2011 and a Master degree in Chamber Music at the same institution. Besides clarinet, Severine further specialized in E-flat clarinet with Mr David Van Maele (soloist E-flat of the Belgian Guides).
Severine has also attended masterclasses by: Freddy Arteel, Robert Spring, Robert Walzel, Louis Rossi, Howard Klug, Thomas Friedli, Thomas Röthlisberger, Eli Eban, Michel Arrignon, Hideaki Iwai, Marie Picard, Fan Lei, Jan Guns, Jacques Merrer and Florent Héau.
Severine was a semi finalist at the 'Young Artist Competition' by the International Clarinet Association in Vancouver in 2007 and semi finalist at the '12th International Clarinet Competition Ciro Scarponi' in Todi in 2014.
She performed as a freelance musician, in the 'Brussels Philharmonic', 'Flemisch Opera' and the 'Royal Chapel of the Belgian Airforce'.
Severine is member of 'Klarinetensemble Solido' and woodwind quintet 'Venturi'.
She has been a soloist with 'Ciurlionis Stringquartet' from Lithuania, 'The University of Utah Windensemble', 'The International Clarinets', 'Claribel Clarinet Choir' at TMEA in San Antonio and Midwest Clinic in Chicago, 'Simon Bolivar Youth Symphony Band', the 'Free State Symphony' of Bloemfontein (South Africa) where she was invited as guest artist during the 'International Clarinet Extravaganza', 'Symfonisch Ensemble Querceto', 'Roman Quartet' and 'L'Orchestre de la Garde Républicaine' during Clarinetfest 2018 Ostend where she performed the world première of the Concertino for e-flat clarinet by Laurent Lefrançois.
Severine is teacher at the 'Academie voor muziek, woord en dans' in Ghent and the 'Stedelijke Academie voor muziek, woord en Dans' in Oudenaarde.
She is administrative manager of International Music Promotion vzw, who organizes the 'International Clarinet Competition Ghent'.
Instruments
Tosca

Prestige 1193 – 1183

Retour en Haut