Suche
Alessandro Cirrito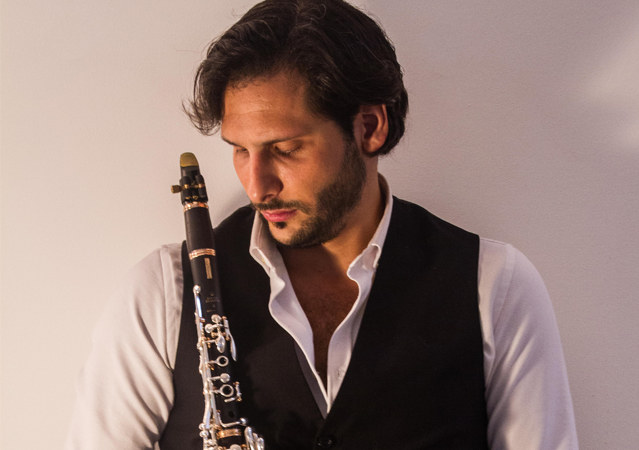 Principal Clarinet of Orchestra Sinfonica Siciliana
Cirrito Alessandro  born in Turin in 1989, began his studies at the Conservatorio V. Bellini in Palermo, where he graduated with top grades and honors.
From 2011 to 2015 he completed the Master's degree at the Musikhochshule in Karlsruhe under the tutorage of Prof. W.Meyer
During his study He attended also master class whit Romain Guyot, Calogero Palermo, Fabrizio Meloni, Alessandro Carbonare, Paul Meyer,Sabine Meyer,ecc
Whilist a student he won many major internazionale Competition: 2008 " Eliodoro Sollima's" Competition, in 2009  "Prize Albanese", in 2013 he won the First Prize and the Audience Prize  at the "Clarinet's Awards Competition"(Germany), ecc..
In 2014, at the age of 24, he won the Audition for Section Leader Principal Clarinet with the Royal Liverpool Philarmonic (trial).
He has been selected also in a lot of Audition and performed with many orchestra like : Verbier festival , Sinfonieorchester Münster,Ulster Orchestra, Orchestra Sinfonica Siciliana, Royal Liverpool Philarmonic, Malta Philarmonic, Badisches Staadtstheater Karlsruhe,Copenaghen Philarmonic,ecc..,alongside many leading conductors such as Michail Jurowki, Vasily Petrenko, Günter Neuhold, Maxime Pascal, Daniele Rustioni,ecc..
In 2017 he won the audition for Principal Clarinet n2 with the Ulster Orchestra ( Irland) where he performed until October 2019.
He has tourned worldwide and performed in some of the finest Concert halls including the Royal Cocertgebouw Amsterdam, Royal Albert Hall London( BBC Prooms) and many others.
He has also broadcast live concerts in radio and television for BBC radio 3, BBC radio Ulster, Rai Television and has recorded several CDs for labels such as Chandos,Naxos,ecc..
Very passionate about chamber music He has numerous perfoming for important Italian musical associations and organizations including "Amici della musica", "FOSS", Rotary Club, ecc.. often with the international soprano Desirèe Rancatore.
Alessandro Cirrito plays a Buffet-Crampon Legende Clarinets.
Instruments
Légende

Retour en Haut