Recherche
Han Kim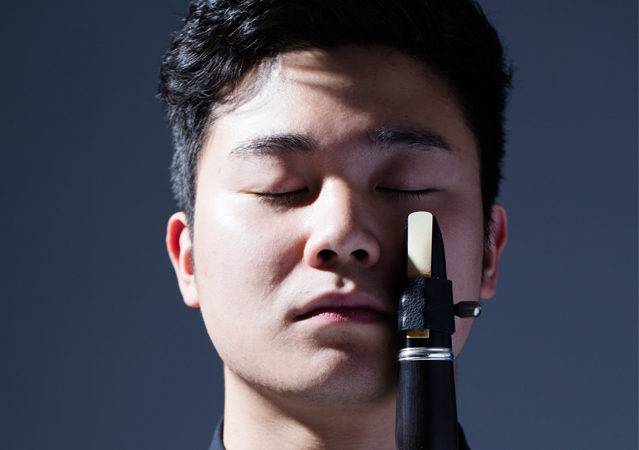 2nd Solo Clarinetist of Finnish Radio Symphony Orchestra
Born in 1996, 22-year-old Korean-born clarinetist Han Kim began playing the clarinet at the age of 10, and has already been recognized around the world as the most promising clarinet prodigy for his wondrous and mature playing, since his video clips of first recital were shared through Youtube and captivated world-wide audiences over 5 million times.
Han Kim has appeared many times as a soloist with a number of orchestra such as KBS symphony orchestra and Suwon Philharmonic Orchestra since his debut on year 2009 at the age of 13, playing Mozart clarinet concerto with Euro-Asian orchestra in Seoul and has collaborated chamber music performances with many of world's finest musicians including Arto Noras, Sabine and Wolfgang Meyer, Daniel Müller-Schott, Igor Levit, Shanghai String Quartet, Bennewitz Quartet and recent engagements include the world premiere performances of Jeajoon Ryu's clarinet sonata, clarinet quintet, and Fuminori Tanada's Clarinet concerto.
Since he launched his international career by recital at the 2008 international clarinet festival in Japan at the age of 12, he was invited to perform in numerous music festivals, such as City of London festival, Heidelberger Frühling music festival, Musikalischer Sommer in Ostfriesland, Ikoma music festival and Asian clarinet festival.
Han Kim is the 1st prize winner of the 3rd Jacques Lancelot International Clarinet Competition in 2016 by unanimous decision, as well as receiving the audience prize and the prize for the commissioned work. He is also the winner of Jury's special prize in 2nd Beijing International Music Competition on 2009. He is a founding member of Veits quintet, the 2nd prize-winning woodwind quintet of the 1st Carl Nielsen International Chamber Music Competition.
He graduated Guildhall School of Music and Drama on a scholarship with Andrew Webster. Currently he is the 2nd Solo Clarinetist of Finnish Radio Symphony Orchestra and studies with Sabine Meyer in Musikhochschule Lübeck.
Instruments
Tosca

Retour en Haut