Search
ICA ClarinetFest 2016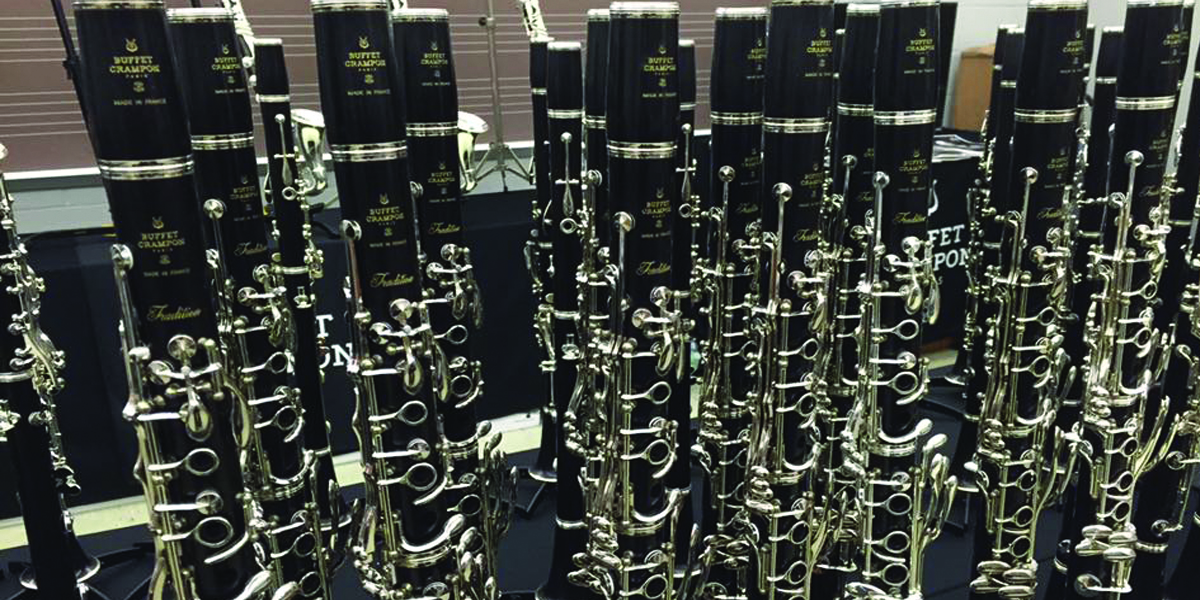 Over 1,100 clarinetists and clarinet enthusiasts descended on the University of Kansas in Lawrence, Kansas, for the 2016 International Clarinet Association ClarinetFest! Buffet Crampon USA was privileged to once again be a Platinum Sponsor of this year's annual gathering, the world's largest assembly of clarinetists every year! The Buffet Crampon Showroom boasted over 100 B-flat, A, E-flat and bass clarinets for visitors to playtest (even a C clarinet!) and over 30 Buffet Crampon Clarinet Artists performed and/or presented during the four day conference. ClarinetFest culminated with the Buffet Crampon Final Evening Extravaganza Saturday evening, which featured Artists Sauro Berti, Lawrie Bloom, Philippe Cuper, Pierre Génisson, Jonathan Gunn, André Moisan, Alcides Rodriguez, Vanguel Tangarov and Eddy Vanoosthuyse. The concert was a tour de force for Buffet Crampon and highlighted our two newest clarinet models, the Tradition professional clarinet (played by Jonathan Gunn) and the Prodige student clarinet (played by Pierre Génisson). Buffet Crampon also hosted an open reception Wednesday evening to introduce the Tradition and Prodige. Jonathan Gunn performed unaccompanied on the Tradition and renowned clarinet pedagogue and Artist Paula Corley performed on the Prodige. Over 200 ClarinetFest guests attended the reception!
ClarinetFest featured many giveaways from Buffet Crampon, including a daily "URBAN PLAY Challenge," where paticipants played along with the URBAN PLAY app to win mouthpieces, bells, barrels and ligatures. The two BIG giveaways were a Prodige clarinet at the Wednesday evening reception and a Tradition clarinet at the Saturday evening concert. Congratulations to our winners Chantal Six of Belgium (Prodige) and Stephen Breeden (Tradition). Buffet Crampon USA would also like to thank all the dealers that exhibited at ClarinetFest. A record number of Buffet Crampon clarinets were sold in Lawrence, thanks to our valued authorized dealers!
See you in Orlando for 2017 ClarinetFest!
Retour en Haut